A council has defended a controversial poster campaign for cleaner streets which shows a toddler appearing to eat dog poo.
The health and safety advert shows the child in a playground with her face and mouth covered in muck alongside the slogan: "Children will put anything in their mouths".
A second picture of dog mess is also shown next to a warning for dog owners to pick up their pet's excrement or face a £1,000 fine.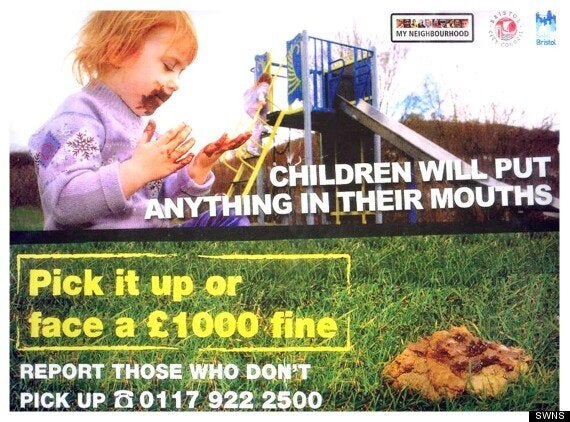 Bristol City Council has defended the poster saying it intends to shock dog owner's into action
Bristol City Council has defended its use of the graphic advert claiming it needs to be shocking to hammer home the message.
A council spokewoman said: "We think it is shocking if people leave their dog excrement and there are children who do get covered in it and that it shocking.
"We are out to shock people with this.
"We have several different posters which have been used by other councils and which local councils and resident associations can pick from to use in their areas."
The poster was actually made several years ago by Rhondda Cynon Taf council in Wales, but has since been used by other local authorities around the country.
It attracted more attention this week after a Twitter user posted a picture of the ad along with the words "What were you thinking?", prompting former TV illusionist Derren Brown to somewhat sarcastically retweet the message, saying he missed the city where he lived as a student.
According to Keep Britain Tidy, the dog population in 2010 was estimated at around eight million, with the animals producing around 1,000 tonnes of excrement each day. It lists the biggest threat to public health from dog poo as toxocariasis, an infection of the roundworm toxocara canis.
If the eggs of the parasite are swallowed, this can result in infection lasting between six and 24 months with symptoms including eye disorders, aches, dizziness, nausea, asthma, seizures and fits. Toxocariasis most commonly affects children between 18 months and five years.
The town of Brunete recruited 20 volunteers to take patrol the streets as part of the imaginative scheme.
"They'd ask them what the dog's name and pedigree was. With that information they could find out the address of the dog's owner from a registered pet database we have," Brunete's Town Hall spokesperson said.
Authorities in Taiwan's New Taipei City also came up with a novel way of solving the all-too-common problem of "street mess" by encouraging dog owners to pick up their pet's droppings and hand them into the appropriate authorities in exchange for a lottery ticket.
Those with lottery tickets had a chance of winning the top prize: a gold ingot worth $2,200 (£1,400).