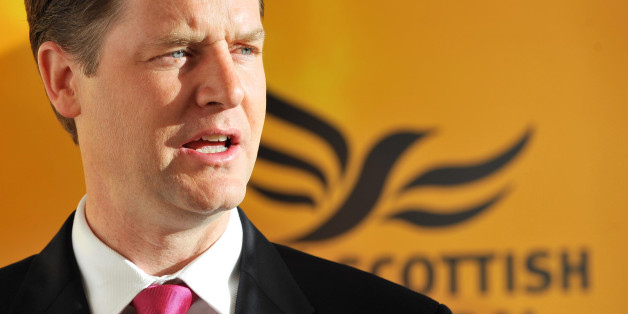 Getty
Nick Clegg is set to challenge Scottish business chiefs to speak out against independence in the build-up to next year's referendum.
Speaking tonight at CBI Scotland's annual dinner, Clegg will say: "Now is the time for you to express your views."
The LibDem leader is expected to call on Scottish business owners to join the "conversation" in time for next September's referendum.
"The future of devolution in Scotland must evolve in a way that enables your success too. This train is leaving the station – debate is under way," he will say.
"So now is the time for you to express your views, to shape that debate, to influence and shape a modern and successful Scotland within a strong United Kingdom."
Clegg's intervention comes as the CBI President, Sir Mike Rake, will use his first major speech at the Glasgow event to warn that Scottish independence would be expensive and an "economic distraction".
Few Scottish business chiefs have spoken out against independence, despite recent polls indicating they are firmly opposed.
Ian Powell, UK chief executive of PwC, said the firm believed "in a United Kingdom" and suggested other firms could be avoiding speaking out in Scotland due to "fear".
As reported by the Huffington Post UK in July, Powell said: "We've got a Scottish business and it seems to us that quite a lot of Scottish businesses don't seem to want to get engaged in the debate at the moment whether its for fear or whatever the specific reasons, I don't know.
"From a PwC perspective, we believe in a United Kingdom and we believe that the right thing is you do have as big an economic unit as you can."
"We haven't gone out in Scotland yet [and said that], but that's what we think as an organisation."
According to a poll last December conducted by Ipsos MORI, 72% of businesses oppose Scotland's separation from the United Kingdom.
David Cameron has accused Scottish First Minister Alex Salmond of scaring businesses into not speaking out by telling them "you'll never work in this town again".
"You can't go on like that. This is a democracy. People have got to be able to put forward their views without fear," he added.