Nick Clegg was awkwardly left tongue-tied today after being confronted by a seriously ill woman who argued she was a victim of the 'Bedroom Tax'.
The deputy prime minister was left stuck for words after Karen in Basildon phoned in to the weekly LBC Phone-In 'Call Clegg' to complain about the Spare Room Subsidy.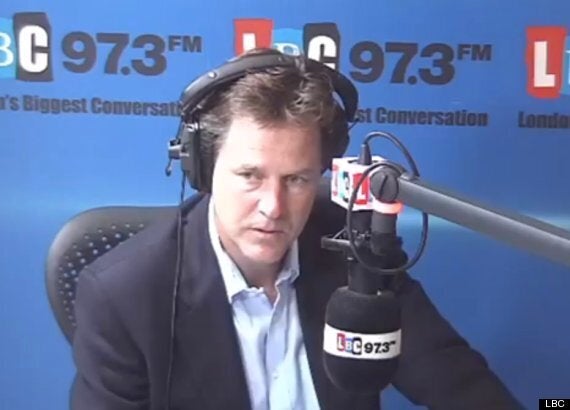 Nick Clegg was left stuck for words
The sick lady said the new tax has left her paying £16 per week extra - despite needing the extra room for her noisy oxygen concentrators.
Karen told Clegg she had been turned down for any council subsidy because she was instructed to move the devices from the spare room.
But she explained the loud devices would stop her and her husband sleeping.
"I've got a serious illness why should disabled people be penalised for this tax?" She demanded on the phone to Clegg this morning.
Awkwardly "erming" the Deputy Prime Minister struggled to immediately respond to the question.
Stumbling over his words, he said: "I'm very sorry to hear about the predicament that you are in and I just wanted to know whether the council was using the very considerable amount of, tens of tens of millions pounds that we increased substantially over the summer to alleviate the predicament you are in," he said.
The clearly flustered Lib Dem leader then backed away from the challenge, stating: "Can I just try and step back from here because this is obviously a very fraught and difficult issue and I don't want to...
"I can't stress enough... of course i'm the deputy prime minister of the government that's introducing this measure, but I'm not in any way oblivious to the difficulties that some households face," he insisted.
Justifying why he is introducing the controversial scheme, Clegg argued that "We have a problem in this country."
"Of course some people feel like they're caught out," he added.
Under the government's welfare reform, social tenants deemed to have more bedrooms than they need have had their housing benefit reduced since April.
Ministers say private sector renters do not get spare rooms for free, and argue the change will save around £500 million annually.
However, it has sparked protests across the country with opponents claiming it is forcing families into poverty and will increase the benefit bill by pushing people into the private sector.
Raquel Rolnik was branded a "loopy Brazilian leftie" by Conservatives after she said she was "shocked to hear how many people feel abused in their human rights by this decision and why - being so vulnerable - they should pay for the cost of the economic downturn, which was brought about by the financial crisis."