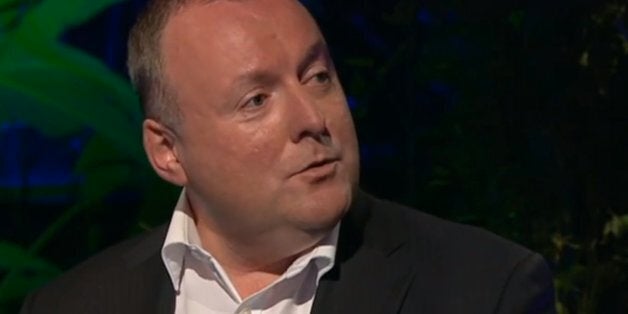 Damian McBride was last night introduced as Damian McPrickface by Jeremy Paxman, as he made a special appearance on Newsnight.
As he broke cover and made his first broadcast appearance, Gordon Brown's former spin doctor said he was "sorry and ashamed" of his actions.
McBride has admitted leaking details about the personal lives of Labour ministers seen as a threat to Gordon Brown's ambitions to replace Tony Blair as prime minister after the 2005 election.
But he said he did not break any laws when he set out to leak damaging stories to the press and said he is willing to talk to police if they investigate the matter.
His derisive 'nickname' began after emails showing how Tony Blair's aides sought to counter what they viewed as Gordon Brown's coup to secure power at Number 10 emerged.
McBride, the former press secretary of Brown, was first referred to as "Damian McPrickface" by Ben Wegg-Prosser, the former director of strategic communications in Number 10, in the emails sent in 2006.
"McPoison as he's known to his many enemies, McPrickface as he was referred to in a recent cache of Downing Street emails," Paxman said introducing the former spin doctor, who did not even flinch at the insult.
McBride admitted to the BBC Two show that many in the Labour Party regarded him as a "traitor" for serialising his memoirs in the Daily Mail during its annual conference.
He insisted he was still a Labour supporter during the interview, to which Paxman acerbically responded: "Can you tell us precisely how it helps the Labour Party to serialise your memoires in the Daily Mail on the eve of conference?"
Defending his decision, McBride said "there's no good time to chose to publish a book like this" and explained that he made the decision because Labour must "learn lessons from his mistakes."
Admitting he was paid more that £100,000 by the Mail, McBride added that he had been offered "double" and a "much more lucrative contract" if he had chosen to publish the book closer to the general election, in order to cause "maximum damage."
A decision he said he turned down in order to protect the party.
"If Labour's going to avoid repeating its mistakes, it's got to learn from its past, exorcise its demons, and make sure that when it says those days are over, it means it."
McBride said he is "sorry and deeply ashamed" for those he targeted while in government and argued he published the book in order to "come clean" and "admit the truth."
"I do feel ashamed, I do feel sorry to those individuals whose careers I affected and even more so to the sort of innocent bystanders who were caught in the way."
When a member of the audience suggested if he was so repentant and wanted to continue to support the Labour Party why doesn't he donate his generous fee to the party, McBride said he had left his job with nothing and built up debts which the money from the book would help to pay off.
Popular in the Community