A 13.5ft-long oarfish has washed up on the shore of southern California - the second to do so in less than a week. A 13.5ft oarfish washed up on southern California on Friday
"This is an opportunity for... the scientific community to study different aspect of this fish that we know absolutely nothing about."
In an attempt to unravel the mystery of why it died, the oarfish was cut into sections and packed onto ice before it was transported to the National Oceanic and Atmospheric Administration.
"We will be very interested - if it has any stomach contents - (in) what it was eating. At first glance, it was pretty heavy so it didn't appear to be starving," Vetter added.
The species is thought to live at depths between 700 and 3,000 feet in temperate and tropical waters, making sightings extremely rare.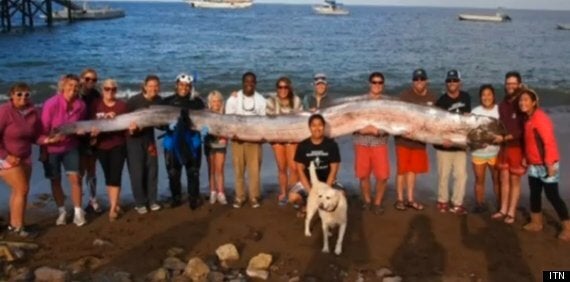 This oarfish was found five days earlier near Catalina Island
Oarfish, which are also known as ribbonfish, are considered one of the world's longest fish, reaching up to 55 feet and weighing up to 600 pounds.
In Japan, they are traditionally known as "Messengers from the Sea God's Palace" and are believed to be the harbingers of powerful earthquakes, (uh-oh...)
The fish's extreme proportions, combined with a prominent dorsal fin and undulating swimming motion, could have been the basis for ancient myths of sea-serpents.