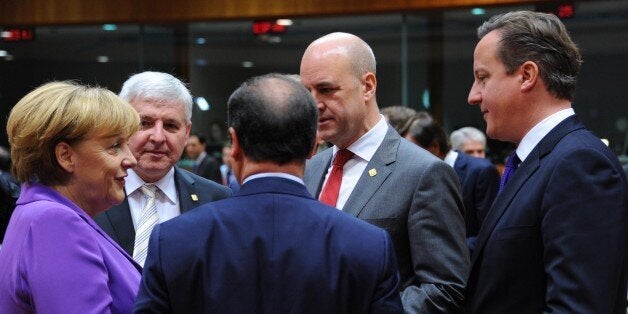 David Cameron has once again attacked the leaking of intelligence that exposed the activities of British and American spy agencies, amid a transatlantic row over whether the United States tapped the phones of friendly European leaders.
Speaking at a press conference in Brussels on Friday afternoon, the prime minister said the information leaked by Edward Snowden and published by The Guardian and other newspapers had damaged national security and endangered the lives of the public.
He said the leaks had made it "a lot more difficult to keep our countries and our people safe" from terrorists who "want to blow up our families".
Cameron said as prime minister he could not afford to have a "la-di-da, airy-fairy" view of the work of the intelligence agencies and had "lost count of the plots" that MI5, MI6 and GCHQ had foiled.
However the prime minister repeatedly dodged questions about what Britain did or did not know about the intelligence activities of the United States, including accusations that the Americans had tapped German chancellor Angela Merkel's mobile phone.
European leaders have reacted with anger at the EU summit in Brussels, after it emerged that the US National Security Agency had monitored their telephone conversations.
The revelation has led to widespread condemnation, and the French and German governments have demanded talks with the United States by the end of the year to resolve the dispute and attempt to restore trust.
French president Francois Hollande said: "What is at stake is preserving our relations with the United States. They should not be changed because of what has happened. But trust has to be restored and reinforced."
German chancellor Angela Merkel spoke of her upset at the alleged phone monitoring, saying: "It's become clear that for the future, something must change - and significantly.
"We will put all efforts into forging a joint understanding by the end of the year for the co-operation of the (intelligence) agencies between Germany and the US and France and the US, to create a framework for the co-operation."
However Cameron indicated Britain would not seek to be part of any new agreement - citing the UK's pre-existing intelligence alliance with Washington.
"I think what Angela and Francois want to do is entirely sensible," he said. "Britain has a very strong and unique intelligence partnership wit the US. "We are in the right situation, I understand what others want to do."
Britain and the US - along with Canada, Australia and New Zealand - are members of the so-called "Five Eyes" group, who share signals intelligence and are supposed not to spy on each other. The US has denied that it is monitoring Cameron's phone or that it ever has done in the past.
Related