Andrew Marr has said he sympathises with newspapers in their battle over press regulation.
The broadcaster, a former editor of the Independent, told campaigning comedian Steve Coogan: "There are things that I can certainly see why the newspapers are worried [about]."
Speaking on his show on Sunday morning, he went on: "If I sue Private Eye for something, for libel or for invasion of privacy or whatever, and I have no real case - it's a rubbish case - and I am beaten in court, they now have to pay my costs".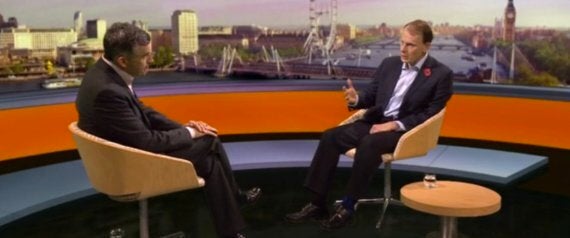 Coogan was on the show to promote his new film
Coogan, who has fronted the Hacked Off campaign for tougher press regulation alongside Hugh Grant, replied that Private Eye would have been protected had it been covered by a royal charter in its famous libel battle with tycoon James Goldsmith.
Also on the show, Culture Secretary Maia Miller suggested the royal charter could become redundant.
Industry leaders have railed against the plans, and are pushing ahead with the creation of an Independent Press Standards Organisation (IPSO) without any formal verification.
Miller told Marr the best way to "stave off" the statutory regulation that many campaigners had wanted was an effective system of self regulation.
Asked if "nothing else needs to happen" if IPSO works, she replied: "Yes. Ultimately yes there are opportunities for the press to be able to be recognised and I would encourage them to look at that because it does mean that they can get the sort of incentives around costs and also exemplary damages."
Told that was likely to infuriate press reform campaigners, she said: "I think they need to examine what Lord Justice Leveson actually said. He said very clearly that a sign of success would be to have a system where we could take both the public and the press with us and that's been at the heart of the way I have approached this.
"And I do hope that the press see the charter as an opportunity for them to really demonstrate to the people who read their newspapers that they take responsibility very seriously indeed in terms of what they print, the way they print it and when errors and mistakes are made, that they have a system of redress in place."
Evening Standard editor Sarah Sands told the programme: "It sounds to me as if we are getting to a breakthrough."