David Cameron's motorcade was 'mobbed' by protestors as he travelled through northern Sri Lanka.
Uniformed police fought with a crowd of up to 200 Tamils, many of them women brandishing photographs of missing relatives, who sought to hand over letters and petitions to the PM.
At least two women were able to get up close to the windows of Mr Cameron's car, as the motorcade departed from the visit.
The women who managed to reach the PM's car were seen to be thrown aside by Sri Lankan police officers. Cameron had just left a library building when the incident happened.
The protest had been audible while Mr Cameron was in the library but the crowd broke through a security cordon to run towards the departing cars despite efforts by the security forces to stop them, reported The Press Association.
Other cars in the convoy and buses for UK officials and media were halted by the crowds and forced to reverse and take a different route.
Mr Cameron flew to Jaffna on a small charter aircraft operated by a commercial arm of the Sri Lankan air force set up when the civil war ended.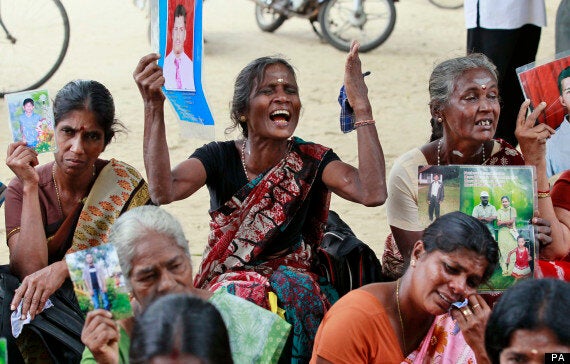 A crowd up almost 200 ethnic Tamils mobbed Cameron's motorcade
At the library he was greeted by staff including the chief librarian at a table laden with flowers and burning incense.
He then met the chief minister - who urged the PM to tell Mr Rajapaksa that they wanted to move to reconciliation "in a peaceful manner" - along with the TNA national leader, MP Rajavrothian Sampanthan.
At the newspaper offices Mr Cameron heard about a catalogue of murders, attacks and intimidation on the daily and its staff, not only during the civil war but right up until recent months.
He was shown, by Uthayan owner E Saravanapavan and chief editor MV Kaanamylnathan, pictures of the victims on the walls and bullet holes from one of many armed attacks on the premises.
The editor has lived in the building for six years, only ever venturing out for medical treatment, as he fears for his life following a previous assassination attempt.
Earlier, the PM arrived in the north of Sri Lanka to meet Tamils scarred by years of ethnic fighting as he heads for a confrontation with the country's president over the regime's human rights record.
Cameron, who has defied boycott calls to attend a Commonwealth conference hosted by the island state, is the first world leader to travel to the north since Sri Lanka gained independence in 1948.
And he is poised to put his concerns - including demands for an independent inquiry into alleged war crimes by state forces - directly to Mahinda Rajapaksa in a face-to-face meeting.
As many as 40,000 civilians are estimated to have died in the final months of the regime's 26-year fight with Tamil Tiger separatists, according to the UN, which wants an international investigation if no new inquiry is held.