A Walmart store has launched a desperate appeal for food donations… for its own staff.
The supermarket giant has come under fire in the US overnight after a store in Ohio launched a campaign looking for canned goods for its own employees in order to help them enjoy Thanksgiving next week.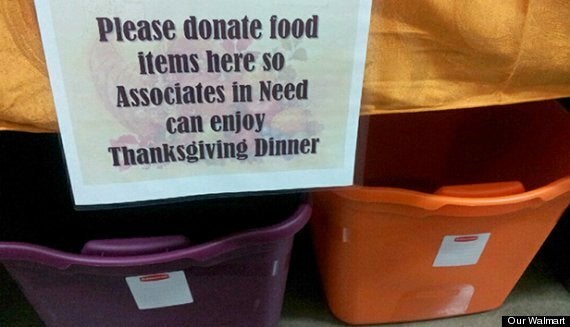 The food drive has sparked outrage
A photograph, distributed by Our Walmart – a group which has repeatedly called on the retail giant to unionise its employees – has circulated online showing several large plastic bins at the Ohio store.
A sign next to the containers reads: "Please donate food items here so Associates in Need can enjoy Thanksgiving Dinner."
An advocacy group called Organisation United for Respect slammed the setting up of bins, saying Walmart employees don't make enough to feed themselves and their families.
"Walmart is asking us to donate food to our coworkers. Why can't Walmart pay us enough so we can feed our families?"
The group's web page quotes someone named Jamaad Reed of Cincinnati, identified as a Walmart Associate, saying "If I made $25,000/yr, I wouldn't have to rely on food stamps."
"This is the first time I've seen them ask associates for donations for Thanksgiving, but I know associates at my store experience struggling to feed their families everyday.
"Most of them rely on food banks," she said.
He said the store, which has around 300 employees had been hosting a food drive over the Thanksgiving holiday for years.
"Quite frankly, a lot of people in that store are frustrated and offended that this is reported in a way besides other folks rallying around each other," he said.
"I couldn't be prouder of people in that store helping in a tough situation," he said.
A McDonald's worker struggling to get by on poverty wages was left less than impressed after she called the company's "McResource Line" – a service provided to McDonald's workers who need help with issues like child and health care.
Related