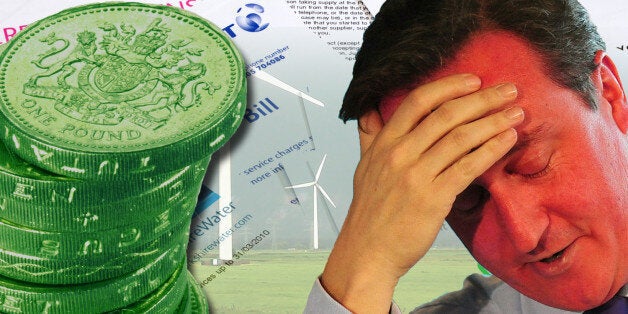 Downing Street has denied reports in The Sun (£) that the Prime Minister is to make a huge U-turn on green energy by ordering aides to "get rid of all the green crap".
The newspaper reported that the Prime Minister has turned from "concerned green to true blue Tory," making a major U-turn on environmental issues, and ordering aides to strip out green levies which push up energy bills.
It quoted an unnamed senior Tory source as saying: "The Prime Minister is going round Number 10 saying 'We have got to get rid of all this green crap'. He is totally focussed on it.
"We used to say 'Vote Blue, Go Green', now it's 'Vote Blue, Get Real'."
But a senior Downing Street source told the Press Association: "We do not recognise this phrase that they are using on their front page."
Ahead of the 2010 general election, Mr Cameron highlighted his commitment to the environment with a trip to the Arctic Circle to view the impact of global warming, and told voters they could "Vote Blue, Go Green".
He has regularly stated his determination to lead the "greenest government ever".
But Joss Garman Deputy Political Director at Greenpeace was left unimpressed by the reported comments from the PM.
"If David Cameron thinks the road to electoral victory will be found in attacking the very policies that he once passionately advocated then he is sorely mistaken.
"The British electorate are a sophisticated bunch who will see through his chameleon tendencies and conclude this attack is not an act of leadership but one of cowardice as he panders to the extreme wing of his own party and tries to claw back support from UKIP.
"The real crime is that every time David Cameron reaches for the dog whistle playbook he undermines thousands of jobs in the green energy sector and threatens future investment. Now that really is crap."
Cameron dismayed some environmentalists by telling the House of Commons last month that he wanted to "roll back" the green levies,
He is claimed to have told aides that green taxes were pushing up families' energy costs, adding £112 to annual energy bills to fund renewable power subsidies and programmes to insulate homes.
Downing Street told PA that this did not mean the PM had abandoned his commitment to the environment.
"He has been quite clear about rolling back the impact of levies on energy bills, but only last week in Sri Lanka he was talking about the importance of tackling climate change," said the Number 10 source.
Responding to speculation that man-made climate change may be to blame for the devastating typhoon in the Philippines, the PM said then: "I'll leave the scientists to speak for themselves about the link between severe weather events and climate change.
But the evidence seems to me to be growing. As a practical politician, I think the sensible thing is to say let's take preventative and mitigating steps given the chances this might be the case."