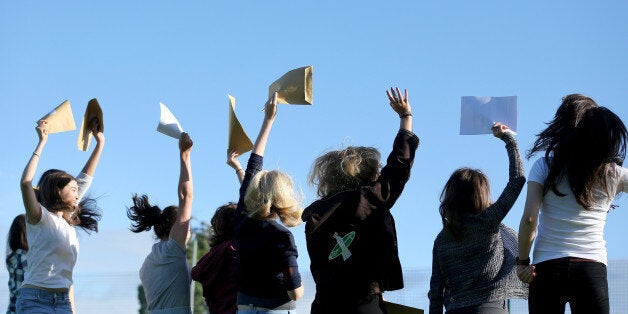 New tougher A-levels could encourage poor teenagers to take alternative practical qualifications, potentially hampering their university chances, the head of the admissions service has suggested. The Government's exam reforms could have a "detrimental" effect on recent attempts to boost the numbers of poorer youngsters studying for a degree, according to Ucas chief Mary Curnock Cook.
A trend towards students taking vocational courses over academic qualifications could increase if the public see new A-levels as more difficult, she said at a Westminster Education Forum event in central London. Ucas figures show that students from poorer backgrounds are already much more likely to take courses such as BTECs than their peers.
Under the Government's overhaul, which ministers say will make the exams more rigorous, students will no longer take ''modular'' A-levels with exams throughout but ''linear'' A-levels with exams at the end of the two-year course. The new qualifications are due to be brought in from September 2015.
Curnock Cook told the conference: "We all know about new tougher, more rigorous A-levels, and these indeed might be desirable in themselves, but I can't help anticipating that a public understanding that A-levels are getting more difficult is likely to increase this big trend towards vocational qualifications that we've seen.
"Given that greater propensity for those from lower socio-economic backgrounds to do vocational qualifications, I believe this might well have a detrimental effect on some of these positive trends we've seen recently in widening participation and fair access."
There has been "extraordinary growth" in young people doing vocational qualifications, with a five-fold increase since 2004, Curnock Cook said. Last year 37% of 19-year-olds in England were holding A-levels, while just over 15% had vocational qualifications, Ucas figures show. Separate government statistics show that the proportion of students entered for just academic qualifications dropped from 70% in 2008 to 51% last year.
Curnock Cook said it is important to "sit up and think" about the implications of this trend as school qualifications are the main route into university. Ucas figures show that for every five people from poor backgrounds applying to university with A-levels, there are four who hold BTECs. Among those educated privately, just one student holds a BTEC qualification for every 100 that are applying with A-levels.
At the same time UK students with A-levels are more likely to be accepted to the most selective universities - those asking for the most Ucas "tariff" points - than those with BTECs. "I think it's quite clear that higher-tariff institutions want to recruit those with academic qualifications such as A-levels," Curnock Cook said.
Top universities attempting to recruit bright poor students are working against not just a decline in the overall population but also a decline in the proportion of students likely to have the right qualifications to win a place at their institution, she suggested.
"BTECs are largely supporting progression to lower and medium-tariff institutions," Curnock Cook said. "I think it's also worth thinking about, if you have done a BTEC in health and social care, you are very likely to to progress on to a course in higher education in health and social care whereas if you've got three A-levels, you've got a choice of probably, literally thousands of different courses to choose from. So it's also a narrower progression route."
She later said: "BTEC growth is highest in the most disadvantaged groups and we need to think about what that means for widening participation, with lower progression rates from vocational qualifications, a narrower choice for higher education courses and indeed types of institution."
A Department for Education spokeswoman said: "It is simply wrong to suggest that disadvantaged pupils cannot cope with academic rigour. The success of the EBacc proves that children from all backgrounds can achieve success in academic subjects.
"It does children no favours at all to dumb down exams while their peers in other countries are meeting ever higher expectations. Reformed A-levels, designed with the involvement of leading universities, will demand more from students and ensure they are better prepared for further study and employment. At the same time we are ensuring only high-quality vocational qualifications, known as Tech Levels, will count in league tables in the future."
A spokesman for Pearson, which offers BTECs, said: "Young people from all backgrounds should be offered the opportunity to study at university, and BTEC is an increasingly popular route to doing so. Just as for A-level qualifications, we work with universities on an ongoing basis to ensure that BTECs enable the students taking them to develop the skills that they will need to flourish at university. This work is reflected in their growing acceptance and take-up."