A woman has inadvertently live-tweeted her husband's death after posting about a car crash on Twitter.
Caran Johnson's tweets started following a horrific accident on Interstate 205 near Vancouver, Washington State.
TOP STORIES TODAY
The tragic tweets take place over a four hour period, and, as time progressed, switched from commenting on the accident to a series of desperate appeals to news organisations and authorities for help locating her husband.
It started when Trooper William Finn, a spokesman with the Washington State Patrol, was tweeting Wednesday under the handle @wspd5pio about the crash.
Mrs Johnson, a local scanner aficionado and a follower of Finn's on Twitter, turned to the micro-blogging site to post new details and to reach out to her community.
"This accident sounds horrible," she wrote in a tweet.
But after emergency workers confirmed someone had died in the crash, Mrs Johnson began worrying about her husband Craig when he failed to return home from work.
Mrs Johnson then tweeted: "I'm trying not to panic, but my husband left work early and he drives 205 to get home. He's not answering his phone."
Mrs Johnson then called on Trooper Finn, via Twitter, for more information.
In a tweet to the trooper she wrote: "Do you have description of involved vehicles?"
Trooper Finn replied: "Not yet." And then he stopped tweeting.
She then posted another message, saying: "I just called 911 and they transferred me after I gave them his license number and told me that they will call me back."
Within an hour, she had tweeted: "It's him. He died."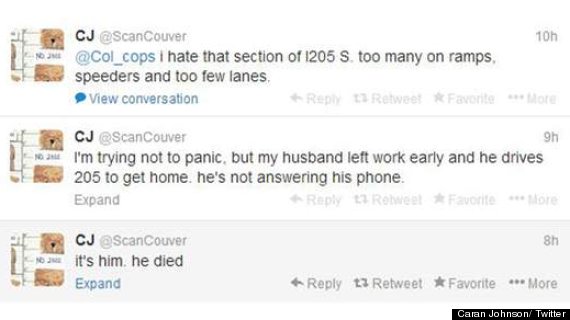 Mrs Johnson continued to tweet after her husband's death, at one point writing: "I know it's petty, but I went from 567 followers to over 1,300. #inshock."
Trooper William Finn described the moment he realised Mrs Johnson's husband was the victim.
"It was terrible," he said to CNN. "Immediately, I went into overdrive mode, and I stopped tweeting the whole thing. I didn't want someone to find out over Twitter that their husband passed away.
"I didn't want her to find out that way. That is a hard thing to go through."
CORRECTION: An earlier version of this story incorrectly stated the location as Vancouver, British Colombia.