The celebrity cook, standing in the witness box at Isleworth Crown Court wearing the same high-heeled boots as yesterday, took issue with defence barrister Karina Arden referring to her as "the lady of the house".
Repeating the term back to the barrister, Ms Lawson said: "I don't think it is the job of a woman to run a house."
She said it was the job of herself and Mr Saatchi.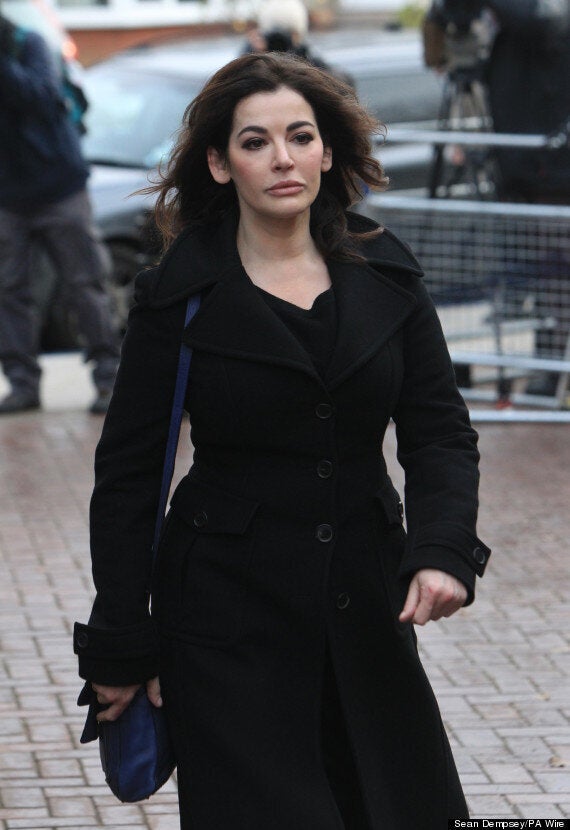 Nigella Lawson has appeared in court for a second day
When asked if the multimillionaire Saaatchi Gallery owner really had an interest in the house, Ms Lawson said:
"Absolutely. He would go round and point out marks he wanted removed.
"He is a person with a tremendous eye for detail."
The couple's former PAs Francesca Grillo, 35, and her sister Elisabetta, sometimes referred to as Lisa, 41, are accused of committing fraud by abusing their positions by using a company credit card for personal gain.
Ms Lawson said that among other duties, Francesca would organise Mr Saatchi's frappuccinos and sew buttons on his suits.
Ms Arden asked if Francesca did the food shopping, to which Ms Lawson replied: "I do a fair amount myself."
Ms Arden then said: "This is no criticism of you as a domestic goddess."
Nigella Lawson told the court she would rather be "honest and ashamed" than "bullied with lies" after revealing details of her past drug use.
The TV cook said she was "not proud" after admitting she has taken cocaine and cannabis but denied her admission was "damage limitation".
"I'm not proud of the fact I have taken drugs but that does not make me a drug addict or a habitual drug user," she said.
Ms Lawson said she objected to stories "peddled" by her ex-husband Charles Saatchi, including that he was checking her nose for cocaine when he was photographed gripping her throat outside Scott's restaurant in central London.
Story continues below slideshow
Nigella Lawson arrives at Isleworth Crown Court
"The fact is, I would rather be honest and ashamed... I wasn't going to be bullied with lies," she said.
"Mr Saatchi was not examining me for cocaine. That's a story he made up afterwards to clear his name."
"It was not true in that my ex-husband was saying that he was getting cocaine out of my nose at Scott's and that I had been completely off my head for 10 years," she said.
"I actually did say at the time it was the extent that was not true."
Prosecutors claim the Grillo sisters lived the ''high life'', spending the money on designer clothes and handbags from Louis Vuitton, Christian Dior and Vivienne Westwood.
The pair are accused of using credit cards loaned to them by the TV cook and her ex-husband to spend more than £685,000 on themselves between 2008 and 2012.
The Grillo sisters, of Kensington Gardens Square, Bayswater, west London, deny the charge against them.