Plastic bank notes are to be issued by the Bank of England for the first time when the new £5 featuring Sir Winston Churchill appears in 2016.
A £10 note featuring Jane Austen to follow around a year later will also be made from polymer rather than the cotton paper currently used, the Bank said.
It follows a three-year research programme that concluded plastic notes stay cleaner for longer, are more difficult to counterfeit and are at least 2.5 times longer-lasting.
A public consultation including events at shopping centres across the UK, giving people the chance to handle the notes, found 87% of 13,000 individuals who responded were in favour of polymer.
Last week, the Huffington Post UK revealed that bank officials tested plastic banknotes' foldability and their endurance in washing machines but have tried to look into cases reported in Canada of the notes melting in the scorching summer sun.The Bank of Canada insists melting banknotes are an "urban myth".
Testing the polymer banknotes in a microwave yielded no effect. However, adding a metal element with the notes made it so combustible that bank officials chose not to microwave for longer than 12 seconds for fear of causing further sparks and fire.
Bank governor Mark Carney said: "Ensuring trust and confidence in money is at the heart of what central banks do. Polymer notes are the next step in the evolution of bank note design to meet that objective.
"The quality of polymer notes is higher, they are more secure from counterfeiting, and they can be produced at a lower cost to the taxpayer and the environment."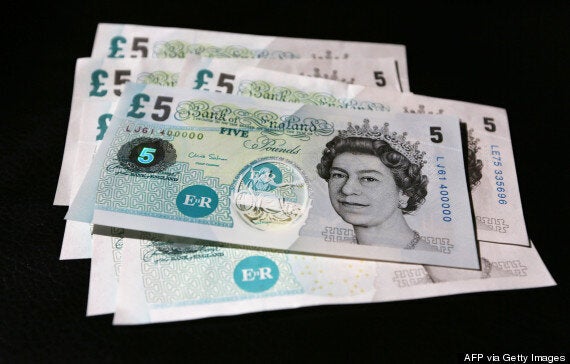 A sample £5 British polymer banknote, which will be issued for the first time in 2016
The new notes will retain their familiar look, the Bank said, including the portrait of the Queen and a historical character.
Meanwhile, the Bank announced new guidelines on how it chooses historical figures to feature on bank notes, which include the aim that they should "reflect the diverse nature of British society".