A body believed to be that of missing teenager Jayden Parkinson has been discovered buried in a cemetery, police have said. Thames Valley Police said tonight they had discovered what are thought to be the remains of the 17-year-old, who has been missing for more than two weeks, in a recently disturbed grave in the churchyard of All Saints Church, Didcot, Oxfordshire.
Detectives believe the young girl was murdered after she disappeared without trace on December 3. A formal identification of the body has yet to take place, but the girl's family have been informed and are being supported by specialist officers.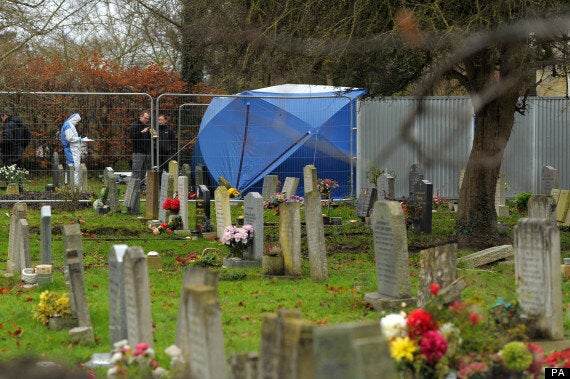 Forensic officers at the scene at Great Western Cemetery by All Saints' Church in Didcot
In a statement, the force said: "Thames Valley Police can confirm that we have found a body in a recently disturbed grave in the cemetery of All Saints Church, Didcot. The body is believed to be that of missing teenager Jayden Parkinson. A formal identification has yet to take place.
"Officers and forensic scientists will continue to work at the cemetery throughout the night and into the next day. Jayden's family has been informed and is being supported by specially trained officers. Our thoughts are with them at this extremely difficult and distressing time."
Jayden's former partner Ben Blakeley, 22, of Christchurch Road, Reading, Berkshire, has been charged with her murder and perverting the course of justice and is due to appear at Oxford Crown Court for a plea hearing on March 17 next year. A 17-year-old boy, who cannot be named for legal reasons, has also been charged with perverting the course of justice between December 3 and December 10 by assisting in the disposal of Jayden's body and other evidence.
More than 100 officers and detectives have spent much of the past week carrying out intensive forensic searches at several sites in and around Didcot and the nearby village of Upton in a bid to find Jayden. On Tuesday, the man leading the investigation, Detective Chief Superintendent Andy Murray, said police had received "significant and highly relevant information'' which led their search efforts to a specific grave in the churchyard.
Throughout Wednesday there has been a large police presence at the church, with forensic teams unloading equipment from vehicles and carrying it into the cemetery where a meticulous and careful search has been carried out.
The teenager, who had recently moved to Oxford, was last seen leaving Didcot railway station at 4.27pm on the day of her disappearance. Police said there had been "no indication" she was alive, after revealing Jayden had not appeared to have used her mobile phone or accessed her bank account in the days since she had been reported missing.
Officers had previously issued an appeal for information about a man seen struggling with a suitcase just outside the village of Upton, at about 2am on Monday December 9. A 2km area of farmland on the outskirts of the village, including woodland and derelict farm buildings, had been the focus of an extensive and detailed search over the weekend, following reports of that sighting.
Officers said the same man was later seen with the same suitcase in the Lydalls Road area of Didcot - where All Saints is located - at about 3.30am the same day. Detectives have since recovered several suitcases, one of which "may well be significant'', according to Murray.
Police also confirmed that during the course of their murder investigation it had been suggested Jayden may have been pregnant at the time of her disappearance, although Mr Murray said they "had no way of confirming whether this is correct or not".