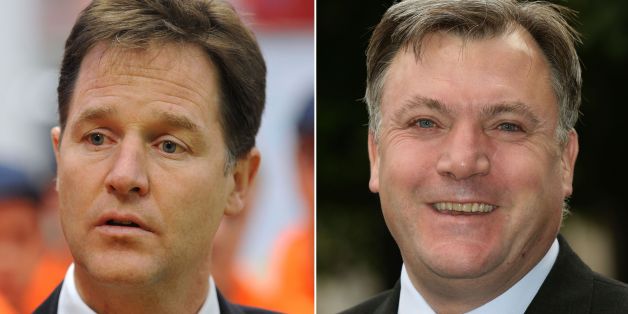 PA/PA Wire
"Ed Balls". With a tweet containing only those two words on Wednesday evening, Nick Clegg sent the Westminster Twittersphere into a meta-meltdown. Serious words were written about the light-hearted message indicating that the long-running feud between the Lib Dem leader and the shadow chancellor was over. Balls' reply, "I agree with Nick", seemed to confirm it. We had moved yet another step closer to a Lib-Lab coalition after the next election, the Kremlinologists decided. All thanks to a single tweet.
I agree with Nick... RT @nick_clegg: Ed Balls

— Ed Balls (@edballsmp) January 8, 2014
Twitter diplomacy is now the norm not the exception, even at the highest level. The UK's Foreign Office only discovered the Iranian president was willing to meet with William Hague after Hassan Rouhani tweeted it.
Rouhani also used Twitter to break the news of a "historic" phone call between himself and Barack Obama. The call was the first time that US and Iranian leaders had spoken directly since the 1979 Iranian revolution.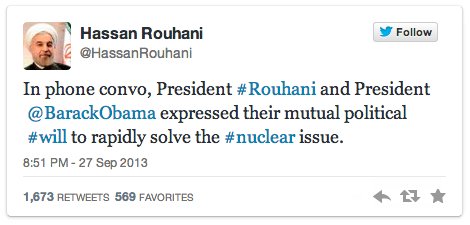 Political announcements via Twitter are also increasingly the norm. US Republican Newt Gingrich announced he was running for president in 2012 with a tweet - the first major candidate to do it in that manner. And David Cameron now announces who has been hired and fired during his reshuffles on Twitter, too.
With all that in mind, is it too much to think Cameron, Clegg and Ed Miliband will use Twitter to announce the formation any post-2015 coalition? Or even use DMs to send each other secret proposals and counter-proposals in the hours after the election? Will Balls, or Lib Dem Danny Alexander, tweet the latest developments from the negotiating room inside the Cabinet office?
Well, to be honest, probably not (though the shadow chancellor may do it by accident!)
Just as the Republican presidential nominee Mitt Romney discovered when his plan to announce his vice presidential pick via text message and on Twitter was foiled by campaign leaks, Twitter doesn't lend itself to confidentiality or secrecy. The formation of a new British coalition government would be hard to keep under wraps.
In May 2015, nevertheless, we will see the first full-on, all-singing-and-dancing Twitter election in the UK. According to Tweetminster, 409 of our 650 MPs now have Twitter accounts. They'll be hard to keep under control in the rough and tumble of a long and closely-fought election campaign.
Maybe, just maybe, in the event of a hung parliament, @nick_clegg could save himself days of arduous Whitehall negotiations, and maintain the element of surprise, by simply posting "RT this if you want to be prime minister" and waiting to see whether @David_Cameron or @Ed_Miliband does it first.