 George Osborne is under pressure to throw out any request from the mostly state-owned Royal Bank of Scotland to let it pay its bankers twice their pay in bonuses.
Labour is tabling a parliamentary motion to be debated today to urge the government to stop any attempt to lift the bank bonus cap for RBS, which is 81% state-owned.
Lib Dem MEP Sharon Bowles, chair of the European Parliament's committee on economic and monetary affairs, told HuffPostUK: "The intention, indeed expectation, of the Parliament's legislators was that bailed out banks would not be allowed to give bumper bonuses. The logic was that first priority should go to paying back taxpayers."
"I understand that the argument will be raised about the importance of performance for the benefit of taxpayers, but the fact is the situation IS different."
Under new European laws, any banker earning over €1m would fall under the cap, while RBS had 93 bankers who were paid over £1 million in 2012, compared with 428 at Barclays and 204 at HSBC.
Lord Oakeshott, who served as the Lib Dems' Treasury spokesman in the Lords, called on the chancellor to block the move, writing on Twitter: "They failed Britain by failing to lend last year. We own the bank,so just say no."
Shadow treasury chief secretary Chris Leslie said: "At a time when families face a cost-of-living crisis and bank lending to business is falling, it cannot be right for George Osborne to approve a doubling of the bank bonus cap.
"It shouldn't have taken the EU to act to rein in excessive bonuses, but there has been no action from the Chancellor here in Britain.
"As the majority shareholder, the government should reject any request from RBS to increase the cap. We will put this to a vote in the House of Commons as part of our opposition day debate on the government's wider failures on banking."
However, Tory MP Mark Garnier, member of the Treasury Select Committee, said banks would seek to get around attempts to cap bonuses by increasing bankers' basic salaries, echoing the argument made by the Treasury in its legal challenge against the EU rules last year.
"What Chris is suggesting is driving up the base costs of the banks, thereby driving up the regulatory capital which ultimately will make the banks more unstable," Garnier told the BBC Today programme.
The Tory MP also described bonuses as "compensation for enterprise".
As Labour piles on the pressure, here are 10 times George Osborne attacked the excess of banker bonuses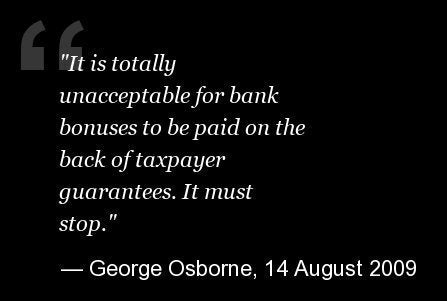 George Osborne Vs Bank Bonuses