In a rather pungent protest, several tonnes of steaming dung have been dumped from a lorry in front of France's national parliament building in Paris.
French police have reportedly termed the incident "un attentat à la crotte" or "poop attack".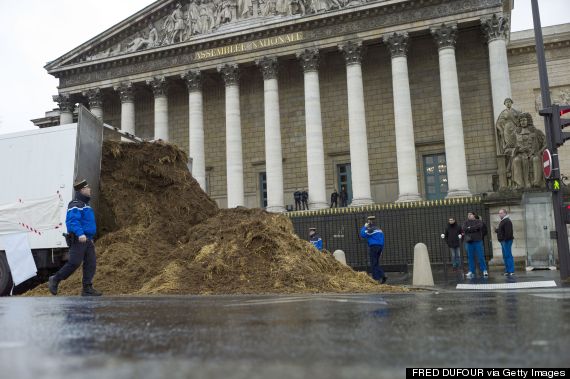 TOP STORIES TODAY
The lorry carried a simple message to The French president: "Hollande and the political class should get out, make way for the Fifth Republic". The driver was arrested soon after dropping his cargo.
The stinky situation comes as Hollande, who has the lowest popularity ratings of any leader in modern-day France, continues to face scandal over revelations he had affair with an actress 18 years his junior.
According to BFMTV there was a similar attack reported in front of the offices of conservative French political party UMP in the north central town of Troyes.
[Pic] Ce matin du fumier a été déversé devant l'AN / Banderole 'Hollande et toute la classe politique dehors" pic.twitter.com/QyPlGHyEcU

— LCP (@LCPan) January 16, 2014
In a similar farmyard-themed protests in December, anti-gay marriage activists released hundreds of chickens outside the gates of the Assembly – several of which perished.
Venez découvrir la #FermeDeParis devant l'assemblée Nationale...

#directAN #fumier #paris pic.twitter.com/Ks7tgPr6TS

— Ticot (@TheTicot) January 16, 2014