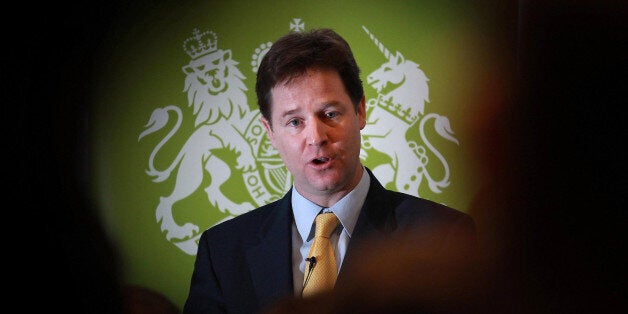 A former aide to Nick Clegg has quit the Liberal Democrats and launched a scathing attack on his failure to show "moral leadership" in response to the allegations of sexual harassment by the party's ex-chief executive Lord Rennard.
Bridget Harris, one of four party activists who made allegations against the peer, accused Mr Clegg of being reluctant to enter a row with party grandees in the Lords.
The former special adviser, who worked for Mr Clegg in the House of Lords, said the party's peers had cheered when they were told Lord Rennard could come back in from the cold after disciplinary proceedings against him were dropped.
The Deputy Prime Minister has since issued an ultimatum that the party whip should not be restored to the peer, who strenuously denies the allegations, until he apologises.
A review carried out by Alistair Webster QC concluded that there was a less than 50% chance of the case against Lord Rennard being proved beyond a reasonable doubt but there was "broadly credible" evidence of "behaviour which violated the personal space and autonomy of the complainants".
He recommended that the peer should apologise and make a commitment to change his behaviour in future.
Ms Harris told The Observer that the House of Lords party "didn't have a vote on Wednesday over Rennard's reinstatement; they had a unilateral announcement by the chief whip that Rennard was being brought back, and those peers cheered".
She added: "The women and men who cheered in that group have no concept of how that looks to the outside world, in ordinary workplaces. Nick Clegg had a duty to show moral leadership. He hasn't."
Although Mr Clegg's powers were limited, she said "there's no reason he can't let it be known that Chris Rennard is still persona non grata" and let any of his allies follow him out of the party. "But he won't risk that kind of split."
Ms Harris said she gave Lib Dem leader Mr Clegg "a bit of a bollocking" after Mr Webster's conclusions were published.
"He's eating humble pie and it's 'I'm sorry, I'm sorry'. I gave him a bit of a bollocking and he said: 'There's nothing I can do, you can't imagine how frustrating it is'.
"He's the party leader, for god's sake. If he can't do anything, who can?
"But he doesn't want to go up against his peers, he doesn't want a big barney.
"He knew about all of these allegations, he knew about all of the women. But they made a calculation back when it all first surfaced that, if they said very little, then the allegations against Chris Rennard would go away. If they kept managing the women. But the women weren't the ones they should have been managing."
She said Mr Clegg's demand for an apology before the whip could be reinstated to Lord Rennard was not enough.
"Since an apology would be an admission then there would have to be sanction surely? I think he just needs to be kicked out," she said.
In an attack on the wider culture of Westminster she added: "When I worked in the whips' office I had 10 male MPs who behaved completely inappropriately to me. It's far from unusual for researchers to have their bottoms pinched and to be kissed on the lips."
It has emerged Lord Rennard, 53, considered offering a general apology to the women for any upset he had caused before he was made aware of the specific allegations which have caused a deep rift in the party.
In a comment made on Facebook the peer said he would not apologise now because it was not justified and there was the possibility of legal action.
Lord Rennard wrote: "I tried to make/consider any apology years ago, but was totally rebuffed by the complainants. One accepted then reneged! An appeal and further legal actions are threatened, so I could not apologise in any event even if justified (which it is not).
"It would damage the women and the party much more if I said any more."
A source close to the peer said: "He considered some years ago offering a general apology if he had ever caused offence in any way, but he didn't then know what the allegations were.
"Now he does know what the allegations are he denies them and therefore won't apologise."
One of the other complainants, Alison Smith, said: "Let's be clear. Any apology from Rennard would need to be sincere
and specific. Nothing worse than 'I'm sorry if...'"
The women are understood to be appealing against the decision to end the disciplinary process.
Allies of Lord Rennard have also been left furious by the way the situation has been handled.
Leading lawyer and Lib Dem peer Lord Carlile, who has been acting as an adviser to Lord Rennard, said the party's handling of the situation "makes the North Korean legal system look benign".
Euro MP Chris Davies said he was prepared to help finance any legal action Lord Rennard decided to take against the party.
On Twitter Mr Davies said: "I have pledged a sum of money towards the costs of any High Court action that Chris Rennard may take against the Lib Dems."
Ros Gordon, who chairs the Liberal Democrat Women (LDW) group, said she wanted a meeting with Mr Clegg as soon as possible to discuss the situation.
"LDW believe the entire process from the word go has been mishandled. As a result we have been left with an unsatisfactory position which has not been fair to anyone involved," she said.
"We have been talking to senior members of the party about how LDW can contribute to resolving this distressing situation. Our involvement has been welcomed and we have been working behind the scenes to help in any way we can."
Mr Clegg received the support of influential former leader Lord Ashdown, who said on Twitter: "Chris Rennard and the Whip; I agree with Nick."
A decision on Lord Rennard's future within the party could come tomorrow, when Lib Dem sources said the whip was due to be restored to him.
A number of Lib Dem members have also suggested that his refusal to apologise brings the party into disrepute - the charge that would have been levelled against him over the harassment allegations and which, if upheld, could lead to him being thrown out of the party.
If those complaints are taken up a new disciplinary process would begin, which would lead to the whip being suspended.
If not, Lord Rennard's fate could be decided by a vote of the Lib Dem group in the House of Lords.
More than 120 Lib Dem members said in a letter to the Daily Telegraph that Lord Rennard should be barred from any party body until he apologises.
The peer has indicated he will return to an elected position on the party's Federal Policy Committee now that the disciplinary process has ended.
Lord Carlile, writing in the Mail on Sunday, claimed Lord Rennard had fallen ill due to the party's "unjust and arbitrary conduct of the case".
He said: "Last week, the party appointed an experienced pastoral officer to assist victims of bad behaviour in the party.
"Her first port of call should be Lord Rennard, who has been made ill by treatment that Thomas Cromwell would have hesitated from using on behalf of Henry VIII.
"Bad losers are an unattractive breed. This case is an example to warn others."
In a challenge to Mr Clegg's ultimatum over the withholding of the whip, Lord Carlile said such a sanction could not be taken "arbitrarily".
He said Lord Rennard and the party's Chief Whip in the upper house had already shaken hands on a return to the Lib Dem group.
He said: "Following Mr Webster telling Chris that there would be no further action, I and Lord Rennard met the Lib Dem Lords Chief Whip Lord Newby, an honourable person.
"He was told and accepted that Chris was returning without delay to the Lords Whip. He showed his acceptance as the two men shook hands.
"The whip cannot be removed arbitrarily, and Mr Clegg's apparent belief that it could is mistaken.
"Many in the party do not agree with Mr Clegg, and some Lib Dem peers are very pleased that Lord Rennard - the most effective party tactician of recent years and from whom Mr Clegg more than most has benefited hugely - is back where he has belonged since he was a teenager, as a leading Lib Dem."
He added: "I expect the Lib Dems in the Lords to resist an attempt by a kangaroo process to eject a proper member against whom the allegation was found wanting.
"Mr Clegg's recent ultimatum will move few peers, and anger many."
Related