The NHS is recruiting GPs, intensive care nurses and neonatal experts from Romania, with the dire shortage of nursing students in the UK blamed for the recruitment abroad.
Approximately 2300 medical professional jobs currently being advertised to Romanians via Tjobs include intensive care nurses for a NHS hospital in Cambridge, and doctors for a new GP practice in Liverpool. These do not include adverts for carehome staff, categorised separately.

Many of the jobs are for qualified medical staff, urgently needed in Britain
The statistic are a sharp comparison to January 2013, when most of the jobs advertised were for hotel and hospitality staff, before the working restrictions on Romanians were lifted last month.
Adrian Ient, the PR manager at Cambridge University Hospitals, said the Trust had to recruit from abroad for new positions which suddenly needed filling when Addenbrooke's hospital became an acute trauma centre in April last year.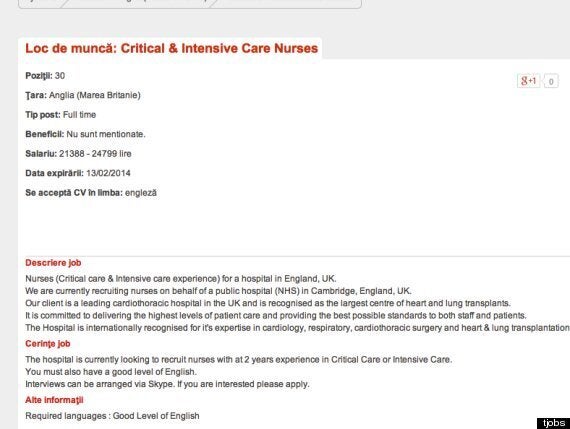 Jobs have been advertised for positions with the NHS in Cambridge
He said that advertising abroad was not the NHS being "profligate".
"We expect them to have a good level of English and experience, and we are offering a very attractive package in a great place to live and a fantastic place to work," he told HuffPost UK. "We are a very big hospital and there are a lack of nurses, nationally across the UK and we are very involved in active campaigns to get more people into nursing.
"It's a vocation not a job. And it's one we need people to do. It's a valuable, honourable, important career."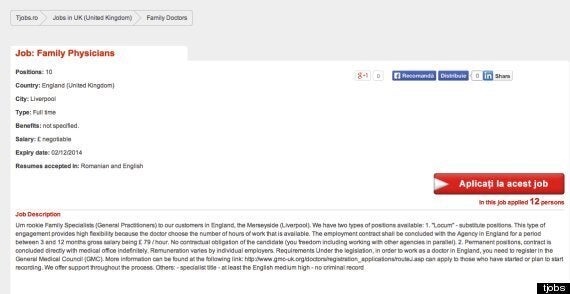 One of the jobs advertised on Tjobs for a GP needed in a new practice in Liverpool
Howard Catton, head of policy for the Royal College of Nursing, said the NHS had been hit by having to make £20bn of efficiency savings, which had hit training and education budgets for new nurses.
"After the Francis Report [into the Mid Staffordshire care scandal], the government decided hospitals needed to recruit more nurses, but there is a real shortage of trained professionals in the UK.
"The government realised it made the cuts in the wrong places. We now estimate there are 20,000 vacancies for nurses in the UK. And the homegrown supply is not sufficient. If you need new nurses quickly, you have to look overseas."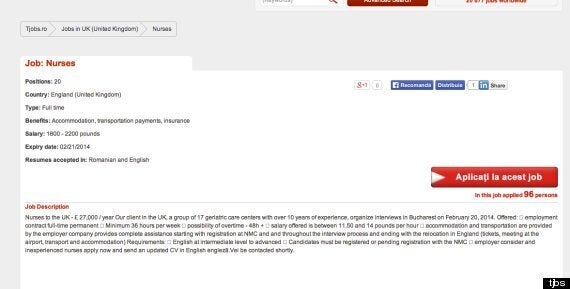 A job for a qualified nurse in a private elderly care facility - with a generous salary of £27,000
Catton said the most popular recruiting grounds were Spain, Romania and Bulgaria. "It was very different in 2000, when the economy was better across Europe, and recruitment for the shortage then was in sub-Saharan Africa and the Philippines."
The UK needs an urgent "debate and discussion about the rights of migrants coming here, and what part of their salary could be deducted for travel expenses or accommodation."
The statistics will confirm what many migrant rights experts have said about EU immigration, that migrants come to Britain to do jobs that cannot be filled with British workers.
European countries, Catton said, are unlikely to be happy with the situation of nurses and doctors taking jobs in Britain. "They pay to train them in their home countries and then they are poached for jobs in Britain. For many countries that is unacceptable".
Dr Ion Jinga, Romania's ambassador to the UK said: "The EU labour market has become increasingly competitive and every economy aims to attract bright brains and highly skilled workers. Romania's economy is growing fast, with a 5.2% GDP growth in the final quarter of 2013 – the biggest rise in the EU – and a full-year rate of 3.5%, and the EU average growth was only 0.1%.
"In order to keep this momentum, we need our skilled people to stay and contribute to the economy. Last year, the Romanian government succeeded to create almost 100,000 new jobs and in January 2014 more than 10,000 jobs were available. Also, several measures are in place to attract Romanians back home, including grants for setting up new businesses.
"Ironically, our employers are now in competition with British employers, who last month advertised 10,367 vacancies for Romanians."
Around 1,471 Romanian nurses were already registered to work in Britain between April 2010 and March 2013.
Popular in the Community