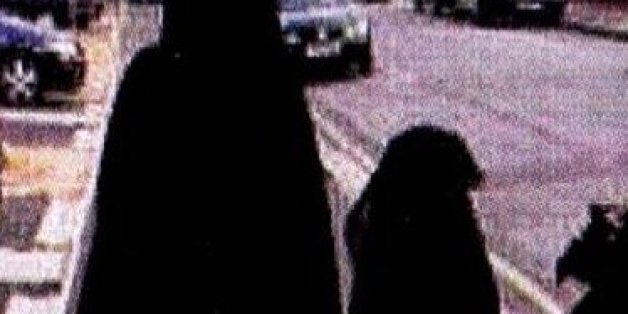 A Conservative councillor has been given the boot by the Tory Party for mocking burkas in a post on Facebook that compared them to bin liners.
The photo shared by Enfield Council's Chris Joannides showed a woman and a girl dressed in burkas walking next to two bin bags, captioned: "I saw her standing there and I told her she had three beautiful children. She didn't have to get all pissed off and threaten me. It was an honest mistake!"
Joannides, a Greek-Cypriot, has been deselected as a candidate for May's local elections and cannot re-join the party for 12 months, according to a ruling by Conservative headquarters.
He called the comment "blokeish banter" according to the Evening Standard and said he was not being investigated police and had the support of the local party.
"The picture was shared on my Facebook profile by a friend and I deleted it straight away, but someone took a photo of it before I could take it down," he said.
"I was investigated by the local association and cleared. I was investigated by police and cleared. I was reselected to stand in May by the local branch.
"Then I got an email from Conservative Central Office at the 11th hour telling me they were suspending my membership for 12 months, effectively barring me from standing. The rug has been pulled away from me."
He told London Greek Radio his suspension was " part of political correctiveness, which has gone slightly wrong."
CCHQ said in a statement in response to the ban: "Chris Joannides is not endorsed as a candidate in the forthcoming local government elections. No appeal is permitted under party rules. Furthermore, Mr Joannides is expelled from the party for a period of 12 months. He may appeal against this decision and it is our understanding that he intends to do so."
Labour's London Assembly member for Enfield and Haringey, Joanne McCartney, said in a statement: "This was completely inappropriate for an elected representative. Residents have to be confident that people who make decisions on their behalf have the well being of everyone at heart. The comments undermine that trust and confidence."
In January, Conservative activist Edward de Mesquita, who is standing for the party in West Hampstead at the local election, made a series of bizarre comments to his local newspaper, claiming the Tory party is not racist as many members have foreign wives.
He apologised for the comments, and his local party are investigating.