Bayern Munich coach Pep Guardiola admitted he was unhappy with the decision to dismiss Bastian Schweinsteiger by Spanish referee Carlos Velasco Carballo in their Champions Leaguedraw with Manchester United.
Guardiola appeared to suggest Wayne Rooney - who Schweinsteiger fouled - had dived to get the German midfielder sent off.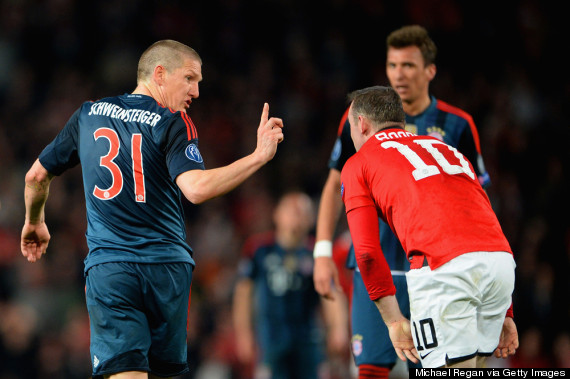 Schweinsteiger accused Rooney of exaggerating his fall to get him sent off
Schweinsteiger also accused Rooney of a theatrical tumble, and asked if he saw his player's accusation, Guardiola responded: "I didn't see, but I spoke to the referee. He is a very good referee. He made a very, very good game, but it is unfair.
"But it is okay. To win the Champions League you have to solve and overcome everything. In football this kind of thing happens."
Guardiola, who also had a minor spat with the Guardian's Manchester correspondent Jamie Jackson in his post-match press conference, was pressed further on the matter but refused to elaborate.
On the tie, he said: "It is not an exceptional result but it is good enough considering how good Manchester United are."