Pep Guardiola channelled the anger of Heath Ledger's Joker following Bayern Munich's Champions League quarter-final draw with Manchester United.
Guardiola was miffed the Guardian's Manchester correspondent Jamie Jackson's eyes had drifted elsewhere after he was asked a question by him.
The Bayern coach was asked whether he thought United's tactics - which saw them retain the ball for just 26% of the match - were negative.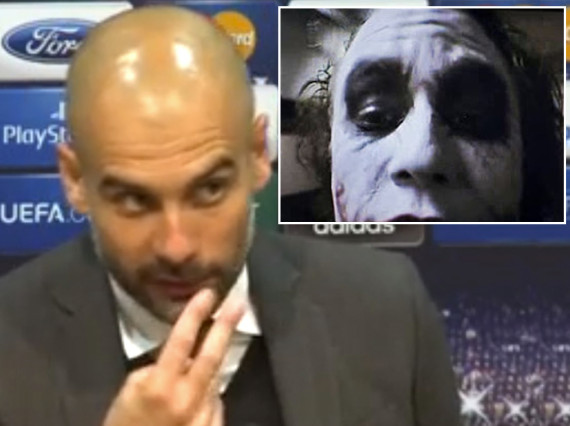 Guardiola channelled the Joker during his post-match press conference
"Nein, nein, nein," Guardiola answered. When Jackson pressed him on United's approach, he added "I didn't say that," as he misunderstood Jackson's line of questioning. Guardiola then interrupted his praise for Moyes.
"He [David Moyes] is my colleague, I respect my colleague and he can play... Look at me when I talk to you," he told Jackson. "Look at me when I talk to you."
"Yeah, okay, I am looking at you," Jackson assured him. "Are you looking at me?"
Some mild laughter was quickly ended by a prickly Guardiola, who re-emphasised to Jackson he was not looking at him while he was "trying to explain".
Guardiola had earlier explained he was unhappy about Bastian Schweinsteiger's sending off in the 90th minute.