Most people agree Ukip contains or attracts racists, according to a new poll which also gives the party a three-point lead for this month's European elections.
Nigel Farage's party is on 29%, ahead of Labour on 26%, the Conservatives on 23% and Liberal Democrats on 10%.
But 27% of those surveyed thought Ukip is a party with "racist views" and "many racist members", while 35% thought that, while the party is not racist, it "does seem to attract some candidates or supporters with racist, extreme or odd views".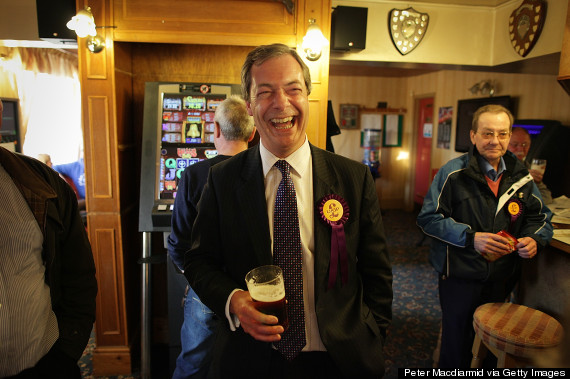 Nigel Farage has admitted Ukip has 'some idiots' in its ranks
A total of 26% said Ukip is not racist and their "more controversial candidates are just saying the things ordinary people actually think".
The poll came as Ukip was forced to suspend another would-be councillor for expressing extreme views on Twitter.
Harry Perry posted comments on Twitter describing Prime Minister David Cameron as a "gay-loving nutcase", calling Muslims "devil's kids" and homosexuality "an abomination before God".
Farage accepted that there were "some idiots" in the party as he condemned Mr Perry's comments as "entirely inconsistent" with remaining in Ukip.
The YouGov poll for the Sun on Sunday suggested, that while Tory and Labour supporters may back Farage later this month, they will switch back at the general election next year.
For the 2015 contest, Labour has a three-point lead on 36% over the Conservatives on 33%, with Ukip on 15% ahead of the Lib Dems on 10%.
Ukip's tough stance on immigration is helping to pull in support ahead of the May 22 poll, with 29% backing them as the best party on the issue, 10 points ahead of the Tories.
Farage is also running neck-and-neck with Labour leader Ed Miliband on 21% as the leader most in touch with ordinary people.
But 34% believe Cameron is best suited to be Prime Minister, 19 points ahead of Miliband, with Farage on 5% and Nick Clegg on 3%.
The Tories are also the party most trusted on the economy, with 39% backing the Prime Minister's party, 18 points ahead of Labour.
YouGov polled 1,844 British adults between April 30 and May 1.
After the poll was released, Farage said Ukip would adopt a different approach to tackling claims it is racist with a new election campaign strategy featuring black and ethnic minority candidates this week.
Speaking on The Andrew Marr Show, he said: "Not only am I adamant we are a non-racist party, this week I am going to fight back against it. You will see our election address for the local elections this year and you will see a lot of black, ethnic minority candidates who are proudly standing for Ukip.
"I am going to approach this differently in future."
He added: "I have never believed in the past in positive discrimination, I have believed in treating everybody equally. I have never gone for all female shortlists or whatever.
"But to see what is written every day, describing my party as being racist and homophobic, we will deal with that head-on this week."
Challenged on his views on Romania, Mr Farage said: "If a whole load of Romanian men moved in next door to you, would you be concerned about it? Perhaps you would, yes.
"Because you know, that what has actually happened is we have opened up the doors to countries that have not recovered from communism and I'm afraid it has become a gateway for organised crime - everybody knows that, no-one dares say it."