Nick Clegg has accused Ukip and parts of the Tory party of trying to "turn the clock back" with its policies and "hankering after a past that probably didn't exist".
Speaking as the Lib Dems poll below both parties ahead of the May 22 European elections, Clegg defended Britain's EU membership.
He told Murnaghan on Sky News: "The view that you are now getting from Ukip, from large parts of the Conservative party... their view is all about turning the clock back, it's all about hankering after a past that probably didn't exist."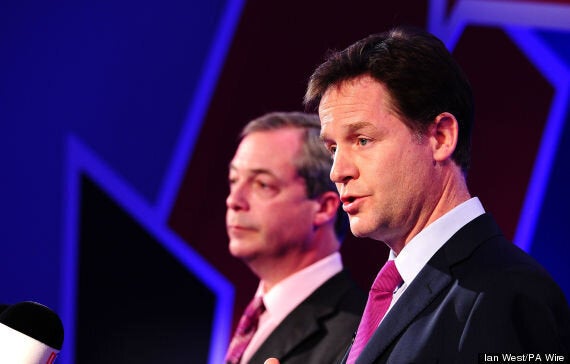 Clegg said Nigel Farage's party was 'hankering' after a past that did not exist
The Lib Dem leader said freedom of movement had been a "huge benefit" to Britons wanting to move but said he was a "leading proponent" of tightening up rules on benefits for migrants to the UK.
He said: "I have a lot of concerns about making sure that the rules are fair so people can't just turn up here from elsewhere in Europe and access benefits no questions asked, no strings attached from day one and that's why I have been one of the leading proponents of saying you've got to tighten up the rules."
Clegg said he believed there were "wider reasons" than Europe that explain his party's low poll rating.
He said: "I think sometimes when a really big fault line opens up in British politics you have to choose, you can't mess about, and there is now really quite a big fault line about whether you are in or out."
He told Andrew Marr Ukip "vote the wrong way" in the European Parliament and are not taken seriously by other countries.
Asked whether voting Ukip was a logical thing to do to keep up the pressure for EU reform, Cameron said: "It isn't because what we need in Europe is a strong Conservative prime minister, backed by a team of strong Conservative MEPs that then will be taken seriously by our European partners.
"The problem with sending Labour and Liberal Democrat MEPs is that they don't want any change.
"The problem with sending Ukip MEPs is they often don't turn up, they then vote the wrong way on things like the budget, and they are not taken seriously by other countries and the European Commission."