Former Buddhist monk and co-founder of online meditation app HeadspaceAndy Puddicombe knows a thing or two about big life decisions and taking the time to unplug and unwind.
While studying sports science at degree level, he decided to head off to become a Tibetan monk. Having been introduced to meditation as a child, it seemed like a natural fit but Andy decided he wanted to take what he learned and bring it to the wider world.
Attaining balance in our lives is a big focus in lives in 2014, from the Joy Of Missing Out trend to being more aware of how often we use our phones. But for some genders, it's a bit easier.
Women are always being asked whether they have work-life balance, and do they make time for themselves. We do it here at HuffPost UK Lifestyle. But no one ever really asks the same questions of men, and since it's unlikely they are any less frazzled, over-worked and stressed out than women, surely that's an area that deserves to be explored?
We asked Andy a few questions around the topic:
What do you think it means to be a man in the 21st century?
I think it can mean many different things to many different people. To me it is about taking care of myself, both physically and mentally, being there for my amazing wife and inspiring as many people as possible to take up daily meditation practice.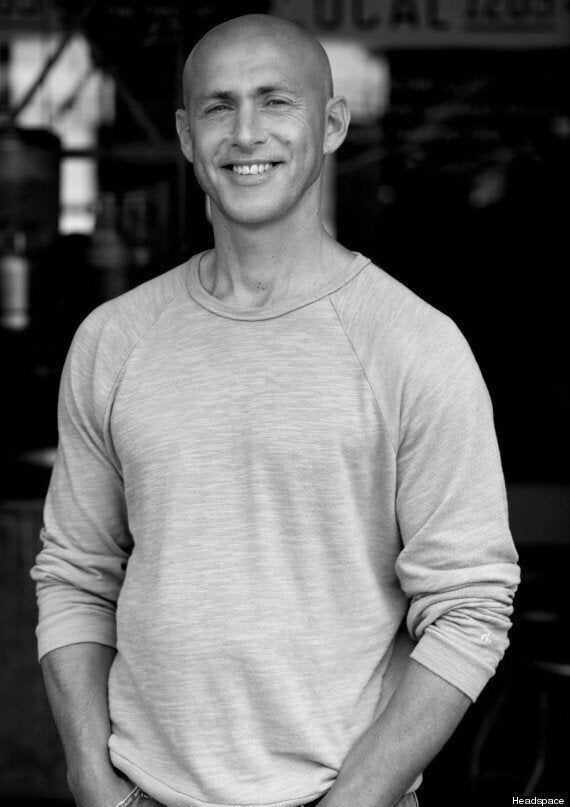 Do you think we get caught up with pre-conceived ideas about masculinity?
Yes, I think that both masculine and feminine roles have been created by society. These ideas have also been exacerbated by the 'celebrity culture' that is so prevalent nowadays. What is important is being able to step back from the media and technology, and make sure you focus on what is important to you.
Isn't it just as important for men to have time for themselves and balance as it is women?
We ALL need time to ourselves, especially in this busy world. This is one of the reasons why we developed our Take10 programme. The Headspace app is free to download, and can be done on the bus on the way to work, or over your lunch break. It takes up less than 1% of your day but you really do feel the benefits in every aspect of your life.
How do you find time for yourself or how do you make time for yourself?
I just make the time! You have to. You have to prioritise and meditation can help you do that. I meditate and surf every morning, and find this really keeps me grounded. As life gets increasingly frantic, it can become harder to balance everything, but practicing mindfulness everyday helps keep that balance and perspective.
What are some of the biggest things men waste time worrying about?
I don't think I can speak on behalf of all men – everyone has their own issues and anxieties – many of which stem from those people and things closest to them. I had a health scare last year, which was scary, but, as you'd expect, meditation really helped me through it.
Most people seem to only effect life changes after having a serious health scare. Do you think this is true?
Again I think every individual is different and there are different reasons why people make changes to their lives. I can certainly see how a health scare can kick you into action, but also I think people in general are becoming much more conscious of their health and are making changes anyway to lead healthier lives.
Taking the time out to reflect and focus on the different aspects of your life will help you appreciate things, so hopefully a serious health scare won't need to!
Depression among men between 18 - 45 is a really big issue - do you have any helpful learnings around this, or what can be done about it?
As you say, it is a really big issue and I certainly think that meditation can help with this. Research suggests that mindfulness-based meditation can be more effective in treating depression than pharmaceutical interventions. It can also significantly reduce depression relapse. Mindfulness practitioners were 3 times more likely to avoid depression the following year after starting their practice, which is very positive.
What is a good mindful exercise for men?
The best way to start meditation is to begin with our free Take10 programme. It is a guided introduction that teaches you how to meditate, and at only 10 minutes a day, it is easy to fit into your routine.
How would you sell the benefits of meditation to men?
Meditation impacts all areas of life. It can help to reduce feelings of stress and anxiety, improve your sleep, enhance productivity at work, improve your physical performance in sports and even help to soften the edges in relationships as we become more patient, better listeners, and perhaps a little kinder too.
The range of benefits is vast and varies from person to person, but at the very least, I don't know anyone who wouldn't like a little more calm and clarity in their life.
What is your favourite place or space to de-stress in?
At home with my wife or in the waves!