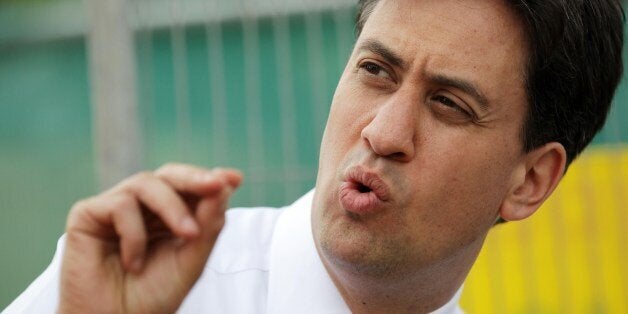 Ed Miliband "doesn't have an immediate appeal to the electorate" and the Labour Party election machine is "unforgivably unprofessional", a Labour MP has said.
As local election results began to be announced on Thursday evening showing a surge in support for Ukip, Blackley and Broughton MP Graham Stringer said the Labour message had failed to cut through to voters.
"We've not done as well as we should have done in both the presentation of our policies and the organisation of the campaign," he said.
Stringer, who has been critical of Miliband in the past, said the Labour leader was guilty of an amateur mistake when he was tripped up on how much a weekly family shopping bill was.
"In the middle of a campaign, if that is the central issue, then you really should find out about it. I think that's a professional mistake," he said.
Labour has had a consistent lead in the polls for some time, however the gap has narrowed. With one year to go until the general election this has led to some jitters on the backbenches. The party is also prepared for the Conservatives to launch personal attacks on Miliband for being "weird".
Speaking on the BBC's election night programme in the early hours, Stringer was also savagely critical of the Labour Party campaign machine run by shadow foreign secretary Douglas Alexander.
"The campaign itself has not been professional. The centre piece for our campaign has been the cost of living and yet Ed didn't know his own cost of living. He didn't know how much he was spending on shopping. Well really people around him should have said, 'David Cameron had been attacked as a posh boy not knowing the price of milk, we shouldn't fall into that trap'," he said.
He added: "The campaign round Douglas has not performed as well as it should have done."
Stringer said a stronger campaign team was needed to do more of the "heavy lifting" in the general election campaign because "Ed doesn't have an immediate appeal to the electorate" so the party "has to work harder in getting his policies across".
And he continued his attack on a follow up interview on BBC Radio 4, in which he questioned what the point of hiring Obama campaign adviser David Axelrod was.
"I don't really understand what the position of Axelrod is. Whether he's there as a bit of a PR exercise, or whether he's really going to take charge of the campaign. But somebody should," he said.
"And if people start, as they are doing round the campaign team at the moment, they are briefing against each other, there are disputes in there - he should sake people who are doing that straight away. And that would show really leadership.
"When you talk more deeply to people, they don't really find an empathy or sympathy with Ed. He's not getting over his own personality over to them in way they feel warm towards."
Stringer's comments come amid internal squabbling within Labour about how the party should tackle the rise of Ukip. A shadow minister told The Times today: "There have been a number of us saying that Ukip was not taken seriously enough. We were telling them that they were in their comfort zone if they thought Ukip was only taking votes off the Tories. You might argue there's a bit of a gap between people in HQ and people out on the street."
Tottenham MP David Lammy said Farage was "racist" and encouraged Miliband to be more tough in his approach to the ukip leader. However former cabinet minister John Denham recently said calling the party racist would lose Labour votes and warned Labour had made a "complete hash" of deaing with Farage.
Popular in the Community