The coalition government has tried to deflect claims it is a "zombie government" that has run out of ideas in the final Queen's Speech before next year's general election.
Labour has claimed the Conservatives and Lib Dems have "run out of steam", with the bulk of the 2010 Coalition Agreement now enacted and the Tories and Liberal Dems seeking to distance themselves from one another before they do battle in the polls.
In a joint statement, David Cameron and Nick Clegg said the speech - delivered by the Queen - was "unashamedly pro-work, pro-business and pro-aspiration".
The speech was a relatively light legislative programme of just 11 new bills for the last year of the coalition Government, unveiled by the Queen amid traditional pomp and ceremony at the state opening of parliament.
SEE ALSO:The 9 Things You Need To Know About The Queen's Speech
Speaking on the Today Programme on Wednesday, Shadow Commons Leader Angela Eagle said they were "a zombie government that has run out of steam and ideas".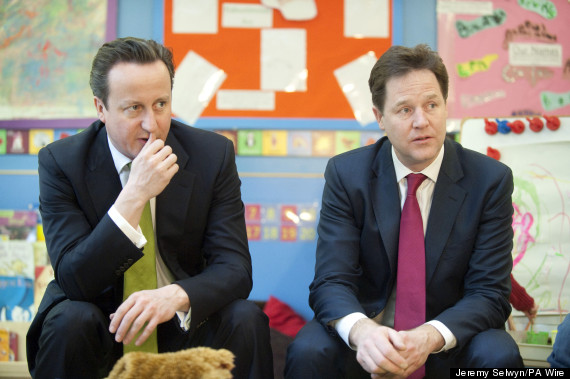 Cameron and Clegg have insisted they are not a 'zombie government'
Labour leader Ed Miliband said the coalition's programme did not live up to the scale of the challenges faced by Britain and the speech is "more of the same".
The speech includes a change to allow voters to recall MPs during parliaments, measures to make it easier for companies to drill for shale oil and gas - a controversial process known as "fracking" - beneath people's homes and a 5p charge on all plastic bags taken from retailers in England.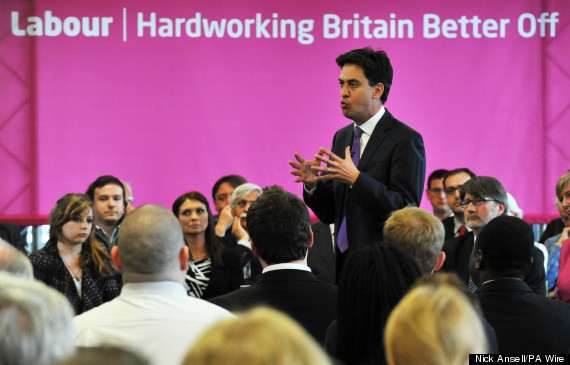 Ed Miliband said the speech offered 'more of the same'
In their statement about the speech, Cameron and Clegg said: "Its guiding principle: to back everyone who wants to get on in life.
"We may be two parties, with two different philosophies, but we understand one thing: countries rise when their people rise. So this Queen's Speech is unashamedly pro-work, pro-business and pro-aspiration."
SEE ALSO: Recall Of MPs Bill A 'Cynical Stitch-Up', Says Tory MP

Watch Labour MP's Queen's Speech Heckle: 'Coalition's Last Stand'
Recalling doubts after the last election over whether the coalition survive for a full parliament, the Tory and Lib Dem leaders said: "Four years on, our parties are still governing together and still taking bold steps.
"Of course, there is still a long way to go. But this Queen's Speech marks a significant step.
"It builds on the foundations we have laid in the past four years, will help us make progress and continue to take Britain forward to a brighter future."
But Miliband said that last month's local and European elections, in which eurosceptics Ukip triumped, showed "the depths of discontent with the direction of our country, which people increasingly feel does not work for them".
He added: "We need action, we need answers, we need a programme for government equal to the scale of the challenge our country faces.
"We would have a Queen's Speech with legislation which would make work pay, reform our banks, freeze energy bills and build homes again in Britain."
The Queen's Speech 2014:

Voters will be given powers to kick MPs out of Parliament, which was promised in the 2010 Coalition Agreement. It will be triggered only if MPs are given jail sentences of less than 12 months or if the House of Commons resolves that they have engaged in "serious wrongdoing". Voters would then have to collect the signatures of 10% of constituents to force a by-election.

A new Infrastructure Bill will mean companies would not need permission from homeowners to "frack" - drill - under houses and land for shale oil and gas. At the moment, shale developers, face a "legal block" of thousands of people across the country denying them permission under trespass laws to drill under their properties.

More protection for vulnerable children and people who are at risk of child cruelty, sexual exploitation and female genital mutilation. The definition of child cruelty will be extned to cover the most serious cases of emotional neglect and psychological harm, in a so-called "Cinderella law". The Bill will also outlaw written paedophile material.

A 5p charge will be introduced in England from October 2015 to help reduce the number of plastic bags handed out by retailers. It follows a similar scheme already operating in Wales and Northern Ireland. Scotland is expected to introduce a similar charge later this year.

Legal protection for have-a-go-heroes and Good Samaritans who intervene in an emergency but can then be sued for negligence or breach of duty. A new act will require courts to consider whether the defendant was acting "for the benefit of society or any of its members". They will also have to take account of evidence that the individual "took heroic action by intervening in an emergency to assist an individual in danger and without regard to his own safety or other interests".

Direct elections could be introduced to the authorities which run England's national parks, as well as the Broads in East Anglia. The environment secretary would be given the power to order direct elections, enabling local residents to vote for the first time for the authority members who have responsibility for running parks and taking planning decisions.