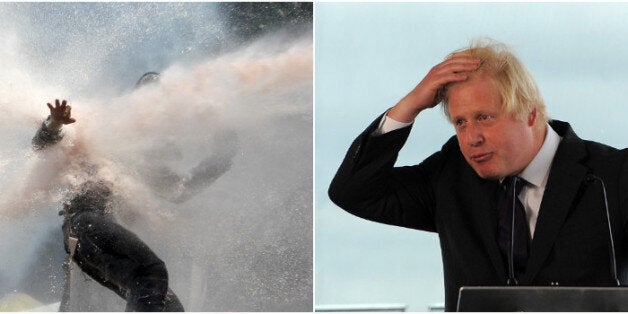 London Mayor Boris Johnson has ordered the purchase of three water cannon - even though the Government has yet to agree they can be used. Some £90,000 is being spent buying the controversial vehicles from German police, and another £40,000 transporting and refitting them for Scotland Yard.
But the Mayor's office has argued that around £2.4 million is being saved by securing the cannon second-hand now rather than waiting for Home Secretary Theresa May to make her decision. Labour and the Liberal Democrats condemned the action as "reckless", insisting there is not enough evidence that the tactic is effective in maintaining order.
Water cannon have never been used on the British mainland, although they have been deployed in Northern Ireland. But the Metropolitan Police concluded there could be a limited role for the tactic in the wake of the 2011 riots, and Johnson has insisted there is broad support from Londoners despite strong opposition in some quarters.
An independent ethics panel, headed by barrister Lord Carlile, will look at when water cannon should be used, if they are licensed by May - who has already ruled out providing central government funding. A spokeswoman for the Mayor's Office for Policing and Crime (MPAC) said the German authorities had threatened to sell them elsewhere if the deal was not completed by July.
"This decision follows the Mayor's announcement in March that he would support the Commissioner's request to purchase three water cannon from the German Federal Police at a considerably reduced rate, and much more expeditiously, compared to commissioning new devices," the spokeswoman said.
"In order to secure them the Deputy Mayor for Policing and Crime has authorised the Met to proceed with procurement. Before they could be deployed here, the vehicles need modifications in order to make them suitable for use in London. By purchasing them now we are able to save over £2.3 million compared to buying new devices and ensure that they are ready as quickly as possible, subject to the Home Secretary authorising their use."
A Scotland Yard spokesman added: "We welcome the Deputy Mayor for Policing and Crime's decision to purchase three water cannon from Germany. We stress that these will not be deployed until or unless the Home Secretary authorises the use of water cannon in England and Wales.
"Following learning from the riots of 2011 the Metropolitan Police requested that water cannon be made available to address a gap in public order tactics, allowing us to more effectively and safely tackle the most extreme disorder. We believe that as a tactic they would be rarely seen and rarely used on our streets."
But Joanne McCartney, Labour's police and crime spokeswoman on the London Assembly, said: "I'm deeply concerned that the Mayor is rushing the purchase of water cannon without a proper public debate. There is still confusion over the reasons behind the purchase of water cannon and exactly how the process of their deployment will work. To rush this through is typical of Boris' slapdash approach to issues of crucial importance to Londoners. It is telling that 20 out of 25 Assembly Members - from all parties - voted against their purchase earlier this year.
"The Met has identified three instances in the last 10 years when it may have used water cannon. Boris says he would have not wanted to see them used in at least one of those situations, the 2010 student protests. Boris wants three old German water cannon as an 'interim solution' ahead of the Government's decision on their long-term use across Britain. It's not clear why the Mayor and the Met believe they need water cannon by the summer. The recent Association of Chief Police Officers report said there was 'no specific intelligence' that disorder was anticipated."
Caroline Pidgeon, Liberal Democrat leader on the London Assembly, said: "There is no evidence to defend the provision of water cannon in London. After three hearings at City Hall the case against the use of water cannon was compelling. London Assembly Members, across the political parties have expressed their total opposition to one of the worst aspects of European policing being adopted in London. The Mayor's refusal to listen or engage with evidence presented to him is shameful."
A Home Office spokesman said: "We are keen to ensure that the police have the tools and powers they need to maintain order on our streets. Chief Constable David Shaw, as the national policing lead, has written formally to the Home Secretary to request that water cannon be authorised for use by the police in England and Wales. The Home Secretary is considering his request."
Isabella Sankey, director of policy for campaigning group Liberty, said: "The Mayor's second-hand German water-cannon may have fallen off a lorry but the real cost of this departure from our best policing traditions will be in public safety and the right to peaceful dissent."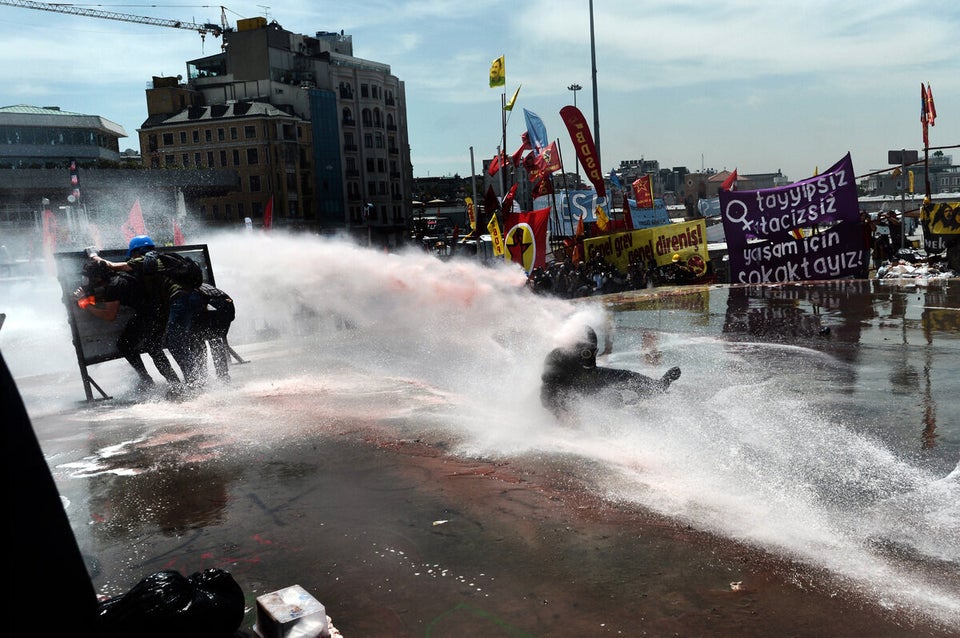 Protesters in Turkey hit by water cannons