Nick Clegg has said he is looking forward to watching Boris Johnson get blasted by a water cannon, as he condemned the London Mayor for controversially buying three for the Metropolitan Police at a cost of £218,000.
The deputy prime minister declined an invitation to join Johnson in front of the water jets, joking that the prospect of seeing the Mayor blasted was "at least one silver lining for people like me who don't think they should be here in the first place".
"I'm looking forward to the consumer test," said the Liberal Democrat leader. "I'll be selling the tickets."
Labour and the Liberal Democrats have condemned the water cannon purchase as "reckless", insisting there is not enough evidence that the tactic is effective in maintaining order.
Speaking to LBC radio, Clegg said that water cannon are not the answer to disorder on the streets, and that it is "fanciful" to think they could have sorted out the 2011 riots.
"My own personal view is that I do not think that second-hand water cannon bought at great expense from Germany are the answer to policing the streets of London," he said.
"All of this comes from lots of understandable soul-searching after the riots about what more powers or equipment we need to give the police to deal with something like that.
"I am told that water cannon have possibly some role if you are dealing with two big crowds which you want to keep separate - football crowds that might get out of control.
"The idea that in the riots, where people are scurrying down small streets smashing windows and then rushing off - small groups moving around in a very fluid situation - the idea that great big lumbering second-hand German water cannon is somehow going to be wheeled out and sort it out is, I think, fanciful."
But Johnson - who must wait until the use of water cannon in England and Wales is approved by Home Secretary Theresa May before deploying the second-hand German vehicles - has offered to be blasted with a jet of water himself to demonstrate that is safe.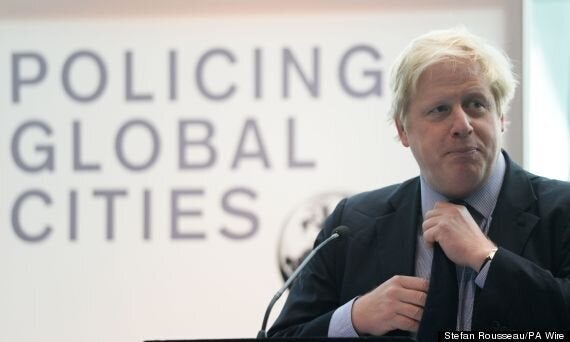 Water cannon have never been used on the British mainland, although they have been deployed in Northern Ireland.
Clegg argued the move clashes with traditional British policing principles.
"I personally think it also rubs up against the long tradition of policing by consent on London's streets.
"I think it creates a kind of embattled sense of how the police work, which I don't think is in keeping with our long policing traditions.
"The police have obviously got to make their own operational decisions, the Home Secretary needs to make her own decision."
Asked whether the presence of the cannon would deter people from joining unrest on the streets, Mr Clegg said Johnson's plan simply was not "realistic."
"For a deterrent to be effective, it's got to be usable. London is a city of small, narrow, winding streets, not just big avenues like Whitehall. A lot of the rioting took place in shopping centres. It took place in a very sporadic way.
"I just think we've got to be realistic. Getting out these lumbering, second-hand German water cannon is not going to deter someone from throwing a brick through the window of their local shop."
Dietrich Wagner was left unconscious, his eyes irreparably damaged when he took the full force of a water cannon to the face during an environmental protest in Stuttgart.
He warned: "Ever since I was hit my life has drastically changed. I can't drive, go shopping, read or do any of the things I used to do. My message is police need to be aware that they are not just a big shower, they are lethal weapons and do serious bodily harm."