Award-winning author Jeanette Winterson is facing a Twitter troll backlash after revealing she killed and ate the rabbit she caught nibbling her herbs.
The 54-year-old captured the animal in a cage, killed, skinned, boned and cooked it, feeding the innards to her pet cat. She then joked about crafting a glove puppet with the animal's head.
Here's how the saga unfolded.
Rabbit ate my parsley. I am eating the rabbit. pic.twitter.com/36rOpIxqxj

— JEANETTE WINTERSON (@Wintersonworld) June 15, 2014
Here is the rabbit washed and jointed for the pot pic.twitter.com/u3sWUAVIF9

— JEANETTE WINTERSON (@Wintersonworld) June 15, 2014
On the AGA in cider with rosemary and thyme pic.twitter.com/OdezgxYFZQ

— JEANETTE WINTERSON (@Wintersonworld) June 15, 2014
Here is my cat eating the rabbit innards. No waste no packaging no processing no food miles. pic.twitter.com/cByulPi8kN

— JEANETTE WINTERSON (@Wintersonworld) June 15, 2014
Oops. You need THIS photo. pic.twitter.com/1SvzqaYUUd

— JEANETTE WINTERSON (@Wintersonworld) June 16, 2014
Picture of my sprout plants grown from seed after rabbit attack! pic.twitter.com/gsbxzvOZ9p

— JEANETTE WINTERSON (@Wintersonworld) June 17, 2014
Picture of eaten alive rose (8more!) All old fashioned varieties planted for bees. pic.twitter.com/mAjXAIJyay

— JEANETTE WINTERSON (@Wintersonworld) June 17, 2014
Winterson's tweets saw scores of her own followers turn against her, with some branding her the Mr McGregor of Twitter, in a reference to the farmer whose garden Beatrix Potter's creation Peter Rabbit sneaks into.
One vowed never to read the Oranges Are Not The Only Fruit author's work again.
@Wintersonworld #before i unfollow u,u make me sick. I will never again. read a word u write. Rest in peace little rabbit.

— jacqueline looker (@lepavego68) June 15, 2014
But many described her actions as "fair enough", "brave" and commended her actions.
Winterson addressed the outrage, asking: "Why is farmed meat fine but personally trapped game disgusting? Think about it."
On Wednesday she spoke to BBC Radio 4 World At One about her experience (listen below), describing reactions to it as "worse than (the rumours which sparked the outrageous tabloid headline) 'Freddie Star ate my hamster'."
While the writer admitted she was "surprised" by the response (and says she is still receiving around 100 tweets a minute), she stuck to her guns.
She said: "The rabbit population is out of control, you can't let them breed.
"If you are going to cull you might as well eat them."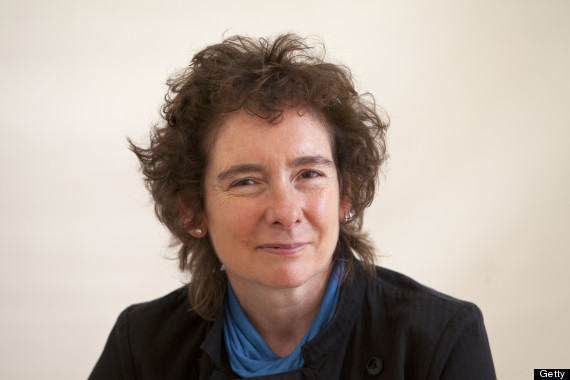 Jeanette Winterson was awarded an OBE for services to literature in 1991
When asked about the tweeter who informed her she would no longer be reading her books, Winterson replied: "She'll have to stick to reading vegetarians, which I think will limit her reading list quite a lot.
"I would like people to understand what it means to eat animals. They are not made of fairy dust.
"I have a rabbit population which is decimating my vegetable and flower garden. I'm going to deal with it."
A spokesman for animal-rights charity PETA told Huffington Post UK: "Jeanette Winterson makes a solid point about the horrors of modern farming, but that doesn't diminish her own callousness.
"Rabbits are sensitive, smart, social animals who form life-long bonds, and each has a personality in his or her own right. Snuffing them out for a fleeting moment of taste is arrogant, ignorant and cruel, whether they are trapped, factory farmed or shot.
"The public's outrage at Jeannette Winterson's act reflects famous vegetarian Paul McCartney's words that "[i]f slaughterhouses had glass walls, everyone would be vegetarian" but this in no way excuses deliberately setting traps for these or any other individuals who are just living their lives.
"When witnessing where meat comes from, most people react with revulsion, but revulsion alone won't change anything unless we follow that through to its logical conclusion and make the decision to leave animals off our own plates."
According to the GB Non-Native Species Secretariat, rabbits are considered to be the most costly non-native species globally, due to the damage they cause grassland, crops and young trees.