David Cameron has been heavily criticised for almost collapsing the phone hacking trial in its final stages by making "astonishing, unprecedented" comments on ex No 10 spin doctor Andy Coulson's conviction for phone hacking while the jury was still deliberating.
Trial judge Mr Justice Saunders said he was "very concerned" about the comments the prime minister made after Coulson was found guilty of plotting to hack phones at the News of the World - but while verdicts were pending on other charges.
Yesterday, Cameron led the way in what the judge described as "open season" by immediately offering a public apology for hiring Coulson as his spin doctor in 2007.
At the time, the jury was still deliberating on the two remaining counts against Coulson, 46, of allegedly conspiring with former royal editor Clive Goodman, 56, to commit misconduct in a public office in relation to paying police officers for two royal phone directories.
The jurors have now been discharged, not because of prejudicial comments but because they failed to reach verdicts on the final charges after nine days deliberation.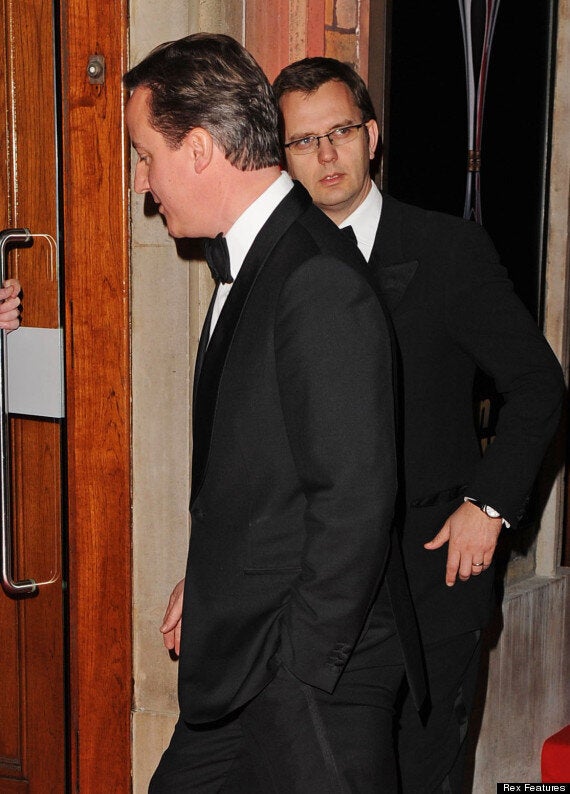 Cameron's apology for hiring Andy Coulson nearly led the judge to halt proceedings
Coulson now faces up to two years in prison when he is sentenced next week. His ex-lover and colleague Rebekah Brooks was cleared of all charges yesterday.
A decision will be made on Monday whether to order a re-trial for Coulson and Goodman.
No.10 said Cameron got "the best legal advice" before he recorded a broadcast clip commenting on the verdict. A spokesman for the prime minister added that his statement "was in response to the verdict handed out in open court, it was restricted to that issue".
This morning, despite claims of the Prime Minister's "ill-advised and premature intervention" in the case, the judge put his trust in jurors to ignore him and dismissed a bid to discharge.
He said he asked Cameron for an explanation and was told by his principal private secretary: "The Prime Minister was responding to the guilty verdict on hacking charges that had been delivered in open court. He did this in the light of the intense media coverage and understandable public interest. The Prime Minister was careful to make no further comment about any matters that might still be before the court.'
But the judge said the prime minister had "missed the point" and revealed information the jury had not been told during the trial for legal reasons.
He said: "My sole concern is to ensure that justice is done. Politicians have other imperatives and I understand that. Whether the political imperative was such that statements could not await all the verdicts, I leave to others to judge."
The jury were "deep in an analytical discussion" on the evidence and they should be allowed to continue, he said: "We underrate juries, and particularly this one, at our peril."
The judge went on: "I'm satisfied the jury should not be discharged as I am satisfied they will continue to try Mr Coulson and Mr Goodman on the evidence that they have heard in court and solely on that evidence.That does not mean that I am not concerned about what has happened in this case.
"The press in court have been extremely responsible in their reporting of this case but when politicians regard it as open season, one cannot expect the press to remain silent. I accept that this case is very unusual if not unique, but the situation could occur again and I would urge that discussions take place to try and set up a better system of dealing with it."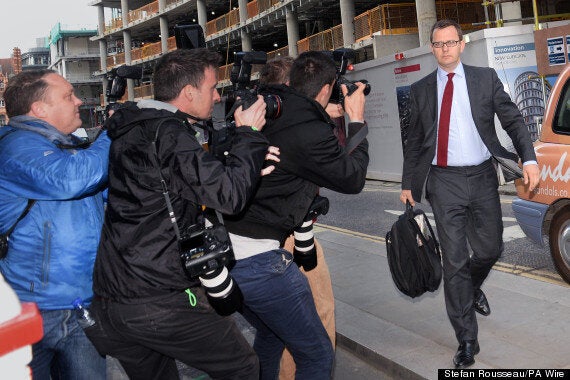 Coulson will learn on Monday whether he is to face a retrial over the last two charges
Earlier today, Coulson's lawyer blamed Cameron, George Osborne and Ed Miliband for putting politics before justice and ignoring the directions of the judge to exercise restraint.
Timothy Langdale QC said: "This was an extraordinary situation where the ill advised and premature intervention by the prime minister and others to avoid political damage or make political capital is almost impossible for the jury to ignore. It strikes at the heart of justice."
"It is astonishing, we say unprecedented, for a prime minister to make public comments of such a crucial juncture in trial proceeding."
"There has been the inevitable maelstrom of reporting across all forms of media...both nationally and internationally."
Prejudicial comments came from the highest levels from public life, he said.
"The jury has been exposed to material which was not in evidence which is highly prejudicial to Mr Coulson - that Mr Coulson lied to the Prime Minister, parliament and the public. It directly impacts on Mr Coulson's credibility that goes significantly beyond the verdict on count one."
He said the comments came from "entrenched party political battles" with no regard for the laws on prejudicing a jury.
But prosecutor Andrew Edis QC said: "What Mr Cameron said is Mr Coulson told him a lie. What Mr Miliband said is Mr Coulson is a criminal.
"The jury were satisfied so they were sure Mr Coulson was guilty of count one which makes him to that extent a criminal. In coming to that conclusion they decided he had told them lies for days on end about phone hacking so Mr Cameron was not really telling them anything that they did not know."
"This is probably the most media savvy jury that has ever tried a criminal case. They have seen the underside of the press.
"They have heard evidence about relationships between the press and politicians. They know what goes on better than anyone and they are very well placed indeed to discount media comment and to concentrate on the evidence they have heard."
The police officer who oversaw the investigation into phone hacking said it was not "an attack on press freedom".
Metropolitan Police Assistant Commissioner Cressida Dick also insisted the police "had done our best to follow the evidence, without fear or favour" and said she hoped the outcome of the trial would give some comfort to victims.
She said: "This has been a complex and challenging investigation which has culminated in a trial lasting almost eight months. Five people have already pleaded guilty to serious criminal offences before this trial.
"Throughout the investigation we have done our best to follow the evidence, without fear or favour. We were conscious of the sensitivities and legal complexities of investigating a national newspaper containing confidential journalistic material.
"This investigation has never been about an attack on press freedom but one to establish whether any criminal offences had been committed, to establish who was responsible for committing them and to bring them to justice. The victims deserved no less.
"Along with the verdicts, I hope this will give some comfort to the many victims that justice has been served.
"Those found not guilty have been exonerated after a thorough police investigation and fair trial. It was right that the issues were aired publicly in a court of law.
"There are other cases yet to be heard and I am therefore unable to say anything further at this stage except to thank the senior investigating officer and all his team for their integrity and professionalism and the CPS and prosecuting team for their support."
Popular in the Community