The prison sentence of Rolf Harris has already been referred to the Attorney General on the grounds it was "unduly lenient".
The former national treasure has been sentenced to five years, nine months in prison for sex offences against underage girls.
He was sentenced as per the guidelines when the offences took place, when the sentences were lighter.
Harris denied 12 counts of indecent assault but he was convicted of all of them after a trial last week.
The 84-year-old, who was one of the country's most beloved entertainers and an icon to children before his arrest, destroyed the "childhood innocence" of one his victims, Southwark Crown Court heard.
The Attorney General's office confirmed it had received a complaint of leniency. It has until August 1 to decide whether to refer the sentence for review.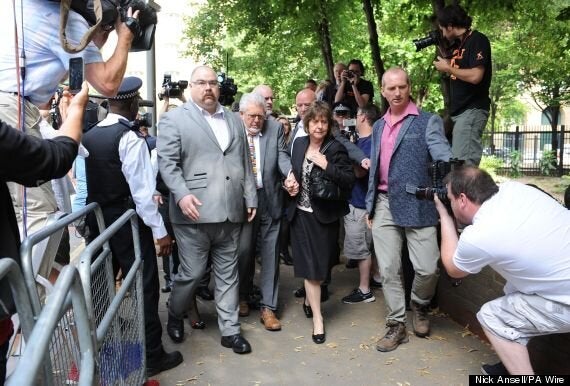 Rolf Harris arriving at court today
The judge told Harris he had use his fame to take advantage of the victims, adding: "You have shown no remorse."
Mr Justice Sweeney told Harris he "had no one else to blame" for the assaults.
Referring to one of the specific charges, he told Harris: "You were clowning around and took advantage of the fact she was somewhat star struck."
Harris clearly "fancied" one of the victims when she was just 13, the judge said.
The judge went over the detail of each allegation in court before sentencing to prison on each count. Some sentences will run concurrently and others consecutively.
It adds up to five years and nine months in jail.
Passing sentence in a packed courtroom, the judge told Harris: "For well over 50 years you have been a popular entertainer and TV personality of international standing with a speciality in children's entertainment. You are also an artist of renown.
"You have been the recipient of a number of honours and awards over the years, you have done many good and charitable works and numerous people have attested to your positive good character."
But he added: "The verdicts of the jury show that in the period from 1969 to 1986 you were also a sex offender, committing 12 indecent assaults on four victims who were variously aged between eight and 19 at the time.
"There were a number of aggravating features. You took advantage of the trust placed in you because of your celebrity status to commit the offences against three of the victims.
"All your offences in relation to (Bindi's friend) were committed in breach of the trust that her parents had placed in you and two of them took place in her own home.
"In every case the age gap between you and the victim was a very considerable one. You clearly got a thrill from committing the offences while others were present or nearby. Whilst others did not realise what you were doing their presence added to the ordeal of your victims."
Harris has also been placed on the sex offenders' register.
Harris's barrister Sonia Woodley QC said: "Once these matters became public a media frenzy surrounded him and since that time he has rarely gone out and has remained almost a prisoner in his home.
"As a man of 84 as he is he is already on borrowed time. Every day, every month, in prison is going to shorten his life."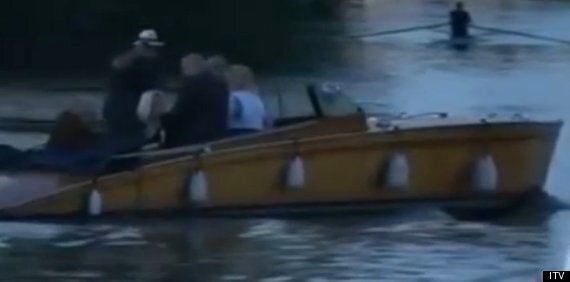 Harris seen here in the back of a boat that took him from his home this morning
Harris's wife Alwen, who supported him every day during the trial, did not attend court for the sentencing.
Harris's victims described the harrowing effects the entertainer's assaults had on them, saying they were unable to move on from his abuse.
As part of the sentencing hearing, Southwark Crown Court heard victim impact statements from the four women that the 84-year-old has been convicted of indecently assaulting.
In a statement read out in court, the former friend of his daughter Bindi - who seven of the 12 counts relate to - described how she had been "traumatised" by the years of abuse she suffered at his hands.
She said: "The attacks that happened have made me feel dirty, grubby and disgusting. The whole sordid saga has traumatised me."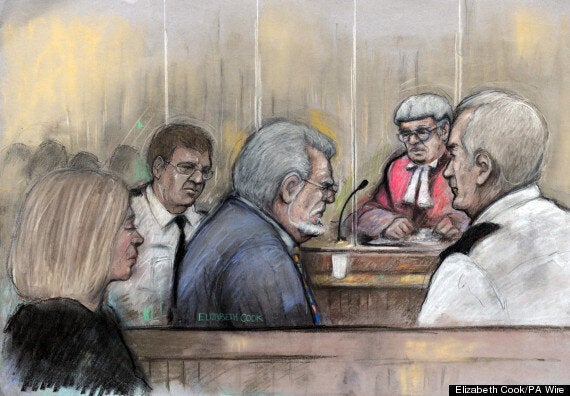 Rolf Harris in court being sentenced
The woman said Harris's abuse had had a lasting effect on her, and had been the cause of a drinking habit she developed at an early age, and had affected her relationship with her parents.
"As a young girl I had aspirations to have a career, settle down and have a family," she said.
"However, as a direct result of his actions, this has never materialised.
"The knowledge of what he had done to me haunted me. However, his popularity with the British public made it harder for me to deal with."
Story continues beneath slideshow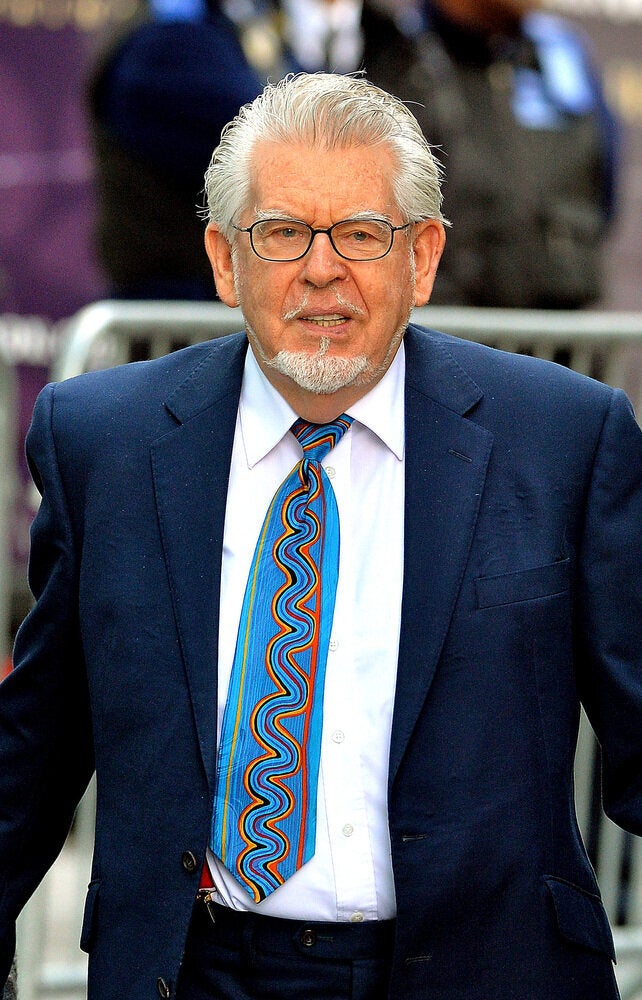 Rolf Harris Court Case
Her statement went on: "Rolf Harris had a hold over me that made me a quivering wreck", adding: "He made me feel like a sexual object, he used and abused me to such a degree that it made me feel worthless."
The woman said she had been convinced nobody would believe her, saying: "My loved ones couldn't understand why I drank so much until I told them what Rolf had done to me for so long."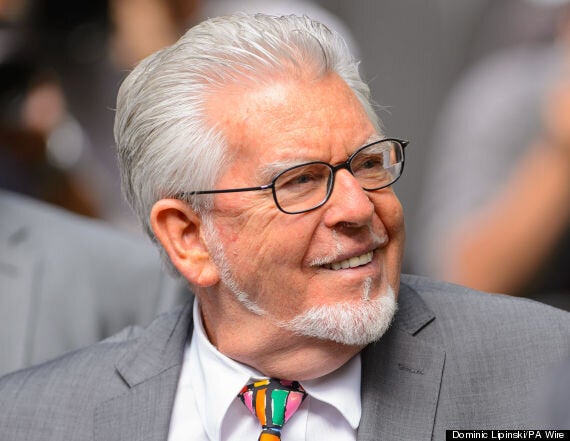 Rolf Harris was smiling at one point outside court today
She said she had been "dry" since 2000 but still suffered panic attacks and severe anxiety and was unable to communicate and socialise with people outside a small circle, making her world "very small".
She said: "Rolf Harris, knowing what he had done to me, put me through the ordeal of appearing in court," saying she felt he had tried to humiliate her by getting her to talk about the abuse in a public arena.
"I believe he thought he could made me crumble which I used to, but I am better than I was."
She said she had suffered abuse at the hands of someone who thought he could get away with it, and had "suffered in silence" for years, causing a detrimental effect to her life.
Another victim, who was indecently assaulted by Harris as she went to get his autograph at a community centre when she was seven or eight, said Harris's assault had taken away her childhood.
She said the moment had been her first taste of independence, but in those few moments her "childhood innocence was gone".
She said the incident her angry and confused, adding: " I became an angry child, unable to express myself and unable to trust men."
Her statement went on: "When Jimmy Savile was exposed I had the courage to tell people I felt I would be believed.
"I felt so much guilt that I had not said anything earlier, this was made worse when I read that Rolf Harris had abused others, I again blamed myself for not having the courage to say something sooner.
"I carried what Rolf Harris did to me for most of my life, it took away my childhood."
A fourth victim who was assaulted when she was a teenager as Harris took part in a celebrity gameshow in Cambridge in the 1970s, said the entertainer had taken advantage of her, making her feel ashamed.
She said: "He treated me like a toy that he had played with for his own pleasure."