The BBC has found itself in the middle of a bitter information war, after it ran a video claiming images shared across social media purportedly showing death and destruction caused by Israel in Gaza were fake.
In an extreme reaction to the piece, perhaps predictable for an issue as contentious as the conflict between Israel and the Palestinians, the broadcaster was accused of conspiring with the Jewish state to underplay the damage its military is inflicting.
Overnight, Israel began a bombardment of the densely-populated Gaza Strip, in which at least 23 were killed, potentially kicking off a lengthy offensive against Hamas militants whose rockets have been striking into the country.
This followed days of airstrikes against the territory and rocket fire against Israel.
SEE ALSO:15 Pictures Of Gaza Under Attack
Before last night's attacks, the BBC broadcast a video pointing out that images appearing under #GazaUnderAttack were old or from violence in other country, including Iraq and Syria.
The segment warned social media users to try and verify images before sharing them.
One Tweeter claimed to have submitted a formal complaint, criticising the piece for not stating how many images were fake or which were genuine.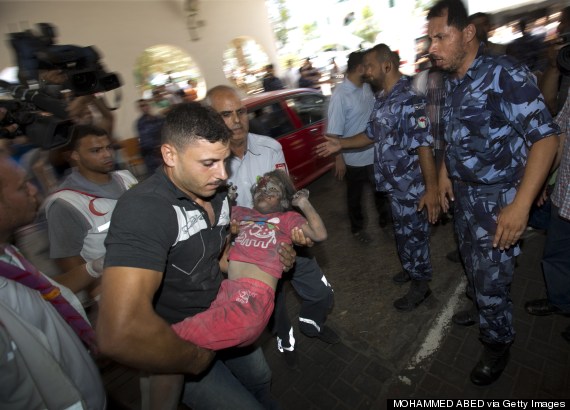 A real image of the carnage in Gaza, shows a Palestinian man carrying his wounded daughter into the al-Shifa hospital in Gaza City yesterday following an Israeli air strike
The BBC piece said "some" accurate images were being shared under the #gazaunderattack hashtag but added "some" were not genuine.
#gazaunderattack has been tweeted hundreds of thousands of times in recent days.
A powerful reaction resulted - on social media, fittingly - which accused the BBC of favouring Israel in its coverage - though those on the other side of the debate also came to its defence.
Story continues beneath video
Some were angry that the piece did not extend to images shared under the #israelunderattack hashtag, which purported to show the affect rocket attacks on the country were having.
One person wrote on Facebook "We will not forget" how the BBC "has taken the side" of Israel.
Another wrote: "(We) don't need you biased bbc to tells us what is happening".
Another simply wrote: "BBC = Israeli Army."
Others posted graphic images which, they said, did show was happening in Gaza.
These tweets contain graphic images
A short time ago: One baby survived! Israeli warplanes slaughtered a whole family of six people in #Gaza#BBCtrendingpic.twitter.com/QeZ3KIkXMK

— Khaled Safi خالدصافي (@KhaledSafi) July 9, 2014
Here's picture for you #BBCtrending from Israeli bombing of #Gaza 2008/9. Time doesn't diminish the horror of it. pic.twitter.com/HOfFqCDBzW

— InCapital24 (@InCapitol24) July 7, 2014
Claims that fake images are circulated online to overstate the scale of destruction are not new in the Middle East and the issue is now a major battleground of the information war there.
An image that shows dead children was circulated in November 2012, during Israel's "Pillar Of Defence" military operation in Gaza.
But it was revealed to have been taken in Syria in that country's brutal civil war.
SEE ALSO:
Speaking on the BBC's Gaza segment, Abdirahim Saeed, of BBC Arabic, said: "This misuse of pictures on social media is not particularly unique to this particular hashtag.
"We've seen this before in Syria, in Iraq, and you've got to keep an eye on who you're following, [and ask yourself] where did this picture come from?"
But the BBC has itself fallen fall of foul of distributing fake images of conflict in Gaza in the past.
In November 2012, its then-correspondent there Jon Donnison retweeted an image of an injured child on a hospital bed that purported to be from Gaza but turned out to also have been taken in Syria.
He tweeted his apologies when this was pointed out to him.
Hadar Sela, editor of the BBC Watch website, which seeks to "monitor the BBC's coverage of Israel for accuracy and impartiality" and has previously accused it of "sailing very close to the age-old wind of stereotypical antisemitic motifs of Jewish power and control over governments", told HuffPost UK that the BBC Trending segment made an important point about news and pictures delivered on social media.
She said: "If this item has contributed to enhancing the public's awareness of the fact that information appearing in any medium - and in particular fast-moving social media platforms - is not always 100% reliable and may be aimed at advancing a particular political agenda, that can only be a good thing.
"Unfortunately, such awareness is also necessary with regard to much of the BBC's own content."
In a statement, a BBC spokesman told HuffPost UK: "Our report made it clear that the attacks and casualties were real but also drew attention to the wider issue of accuracy that is by no means unique to this hashtag.
"Our research showed that many of the most heavily shared images circulating in the week up to 7th July 2014 were from several years ago or were pictures that were not taken in Gaza but in different countries.
"We show evidence of this in our video report.
"We looked at #GazaUnderAttack because it has had 823,000 tweets in 30 days while #IsraelUnderattack had 3000 in the same period. BBC Trending examines popular trends on social media.
"Both sides of the story have been reported extensively on BBC News."