The Lib Dems have performed a dramatic U-turn on their support for the bedroom tax, in a marked withdrawal of support for one of the coalition's most controversial welfare reforms.
Chief Secretary to the Treasury Danny Alexander told the party's Conservative coalition partners that it was "clearly time to take stock and change our approach" on the unpopular policy.
Writing in the Daily Mirror, Alexander said no-one should face a cut in state help if there was no suitable smaller property available and all disabled claimants should be exempt.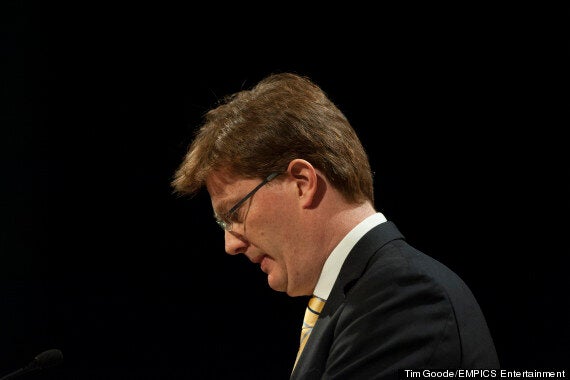 Chief Secretary to the Treasury Danny Alexander gives a speech during the Liberal Democrat Spring Conference at the Barbican Centre
Labour, which plans to challenge Lib Dem ministers to back its commitment to scrap the policy in a fresh Commons vote, accused Nick Clegg of "unbelievable hypocrisy".
Under the welfare reform, social tenants deemed to have more bedrooms than they need have had their housing benefit reduced, to tackle what the Government calls a "spare room subsidy".
Alexander had previously been criticised for the policy by his own father, Di, who called the bedroom tax "particularly unfair". He wrote that the Lochaber Housing Association in Scotland had been "facing up to the considerable challenge presented by Welfare Reform changes" in November 2013.
Nick Clegg has been under pressure to join Labour in opposing the policy since the Liberal Democrat conference voted overwhelmingly to commit the party to the review of what activists called a "reprehensible and evil" move.
Party president Tim Farron - who was among MPs who voted in favour of a previous Opposition motion calling for it to be abandoned -.said in April that the reform had "caused huge social problems and distorts the market".
"We as a party cannot support this," he said.
Alexander said the reform was made "with the best of intentions" but needed to be fundamentally changed.
"Overwhelmingly, our benefit reforms are working, resulting in many more people gaining the independence and self respect of re-entering work," Alexander wrote in the newspaper. "However with only one in 20 of affected claimants having successfully downsized, it's clearly time to take stock and change our approach in this particular area."
"Our revised proposal is that new tenants in the social rented sector would receive housing benefit based on the number of rooms they need. But those already in the social rented sector would only see a reduction in benefit if they are offered a suitable smaller home and, crucially, turn it down.
"Disabled adults should be treated the same as disabled children, by permanently exempting them. And we would introduce new measures on social landlords to manage their stock more effectively so more people get put into the right home."
In a direct message to the Tories, he added: "The Liberal Democrats will make the case for these new fairer rules, seeking to get them in place during this Parliament.
"If we can't convince our Conservative coalition partners, we will commit to these reforms in our 2015 manifesto."
In a swift retort, the Tory source said: "Bringing the bloated Housing Benefit bill under control is a key part of our long-term plan to fix welfare.
"Our reforms are working - and it's imperative we stick to them. The Conservatives are committed to this."
But Lib Dem Care Minister Norman Lamb said the evidence was "clear" that the policy was not working.
"Should you not be willing to review your position in the light of evidence and experience? It seems to me that the evidence is clear," he told BBC2's Newsnight.
Shadow work and pensions secretary Rachel Reeves said: "This is unbelievable hypocrisy from Nick Clegg. The Lib Dems voted for the bedroom tax. There wouldn't be a bedroom tax if it wasn't for the Lib Dems. And in February when Labour tabled a bill to scrap the bedroom tax, the Lib Dems were nowhere to be seen.
"It is clear the only way to cancel the bedroom tax is to elect a Labour government next year."
The study, published by the Department for Work and Pensions on the day of the reshuffle, found that there was widespread concern that those affected were "making cuts to household essentials" or incurring credit card or payday loan debts to make up the shortfall.
The report found 522,905 households were affected by the policy in August 2013, which equates to 11.1% of social tenancies.
Around 57% of claimants were cutting back on household essentials and 35% on non-essentials in order to pay their shortfall while a quarter (26%) said they had borrowed money - 21% from family and friends, 3% on a credit card and 3% via payday loans. Some 10% had used savings and 9% been given money by their family.
Only 4.5% of claimants downsized to avoid being hit by the measure within the social housing sector within six months of the removal of the spare room subsidy (RSRS) policy coming into force in April last year.