The British Government has joined the United States in blaming pro-Russian separatists for the downing of Malaysia Airlines flight MH17 in Ukraine. Downing Street said it appeared "increasingly likely" that the catastrophe, which claimed the lives of 10 Britons, was the result of a surface-to-air missile fired from near Torez, in territory controlled by rebels seeking closer ties to Moscow.
David Cameron earlier insisted that those responsible for bringing down Malaysia Airlines flight MH17 over Ukraine must be "brought to account" amid deepening tensions with Moscow. The Prime Minister described the catastrophe, in which 298 people were killed, as an "absolutely appalling, shocking, horrific incident" that "cannot be allowed to stand".
The response came as the United Nations Security Council approved a statement calling for a "full, thorough and independent international investigation" into the crash. Mr Cameron is still seeking to speak to Russian president Vladimir Putin by telephone about the incident, Number 10 said.
National security adviser Sir Kim Darroch chaired an emergency meeting with officials from across Whitehall, including police and representatives from the intelligence agencies, to assess the situation. A No 10 spokeswoman said: "While it is too early to be categoric about the cause of the disaster, the growing weight of evidence suggests that MH17 was shot down by a surface to air missile and that this was fired from near Torez, in territory controlled by the separatists.
"This is backed up by claims made by separatist leaders on social media, and later removed, to have shot down an aircraft that they thought belonged to the Ukrainian military. On this basis we assess that, without compelling information to the contrary, it is increasingly likely that MH17 was shot down by a separatist missile."
The Foreign Office also sent extra consular staff to Ukraine and the Metropolitan Police are liaising with international partners to send specialist offers to the country to assist with the recovery, identification and repatriation of those killed. Downing Street said six investigators from the UK Air Accidents Investigation Branch would arrive in Kiev tomorrow to provide assistance to a Ukrainian-led investigation, including experts from other affected nations, into the crash.
US president Barack Obama said separatists had shot down Ukrainian planes in the region, and claimed those actions could not have been carried out without Russian support. He said: "Set aside what's happened with respect to the Malaysian airliner, a group of separatists cannot shoot down military transport planes or, they claim, shoot down fighter jets without sophisticated equipment and sophisticated training and that's coming from Russia.
"We don't yet know exactly what happened with respect to Malaysia Airlines, although obviously we are beginning to draw some conclusions given the nature of the shot that was fired. There are only certain types of anti-aircraft missiles that can reach up 30,000 ft and shoot down a passenger jet."
At an emergency meeting of the UN Security Council, US ambassador Samantha Power said Washington could not rule out the possibility that Russia offered help to separatists to launch the missile, believed to be an SA-11. The Boeing 777-200 was flying on an established route from Amsterdam to Kuala Lumpur that had been declared safe by the International Civil Aviation Organisation. Witnesses have described seeing it hit by something before crashing into territory held by rebels in eastern Ukraine.
Among the British victims were Newcastle United fans John Alder and Liam Sweeney, who were travelling to New Zealand to watch the football team's pre-season tour. Glenn Thomas, 49, a press officer at the World Health Organisation (WHO) and former BBC journalist, Loughborough University student Ben Pocock, and Leeds University student Richard Mayne, 20, from Leicestershire, were also on board. Another victim was reportedly helicopter rescue pilot and father-of-two Cameron Dalziel, who is understood to be South African but travelling on a British passport.
Around a hundred of those killed were delegates on their way to an international conference on Aids in Melbourne, Australia - including world-renowned researcher Joep Lange. According to the airline, as well as the Britons there were 154 Dutch passengers, 45 Malaysians, including 15 crew, 27 Australians, 12 Indonesians, four Germans, four Belgians, three Filipinos and one Canadian on board. Three infants were among the dead. Mr Obama said a US national was on board. Details of those killed will be formally confirmed once next of kin have been notified, the airline said.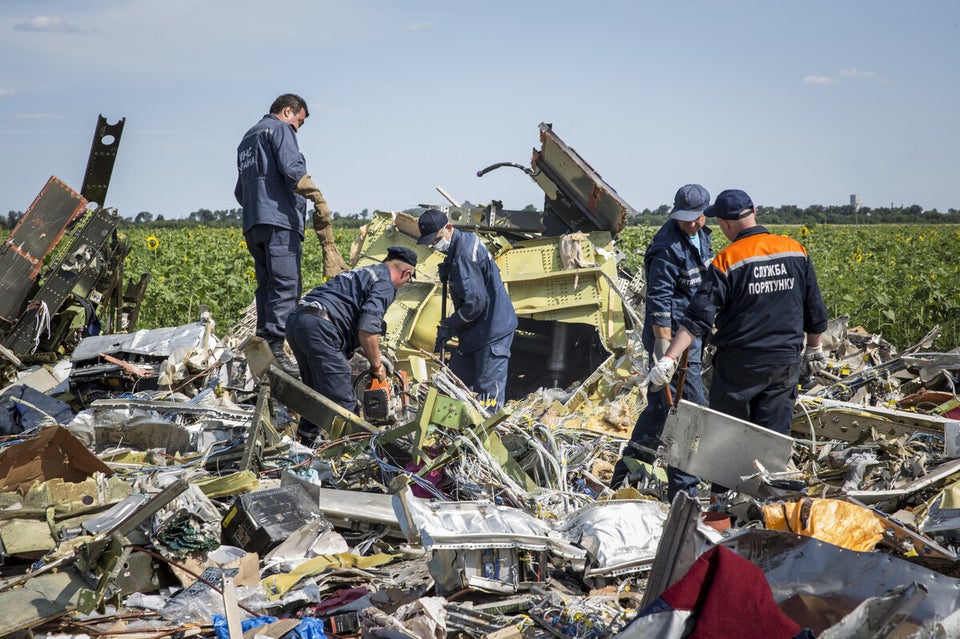 MH17 Malaysia Airline Plane
Related