The LG G3 is the latest flagship from the smartphone and electronics company, it boasts a 5.5-inch Quad HD display and comes with a state-of-the-art laser focusing system which shoots lasers out of the back of the phone.
5.5-inch Quad HD Display
13MP OIS+ with laser autofocus
1-Watt Speaker
Quick Circle Case
Wireless Charging
Qualcomm Snapdragon 2.4GHz quad-core processor
3,000mAh removable battery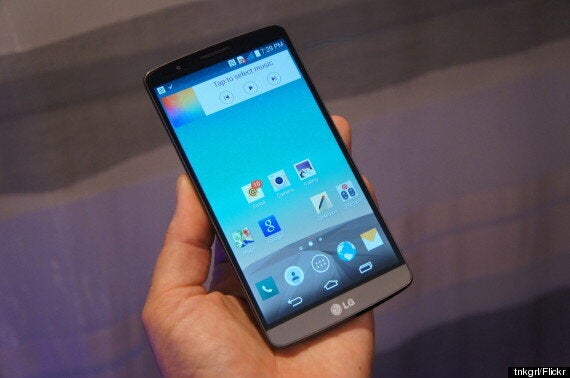 When it comes to making smartphones LG has an image problem. On the one hand it can make probably some of the best Android smartphones in the world (the Nexus 4 and Nexus 5 are both clear examples). Then, on the other hand, it can ignore everything it has learned and throw it all away.
The G2 was universally loved, and it had many impressive features but it hasn't aged well, look around the web and you'll see that the media and consumers were less than in love with just how cluttered the G2 was. Put the G2 and the G3 next to each other and they'll certainly look similar in terms of physical appearance. Turn on the screen though and the contrast is stark.
Look on a timeline and it's even more apparent how indecisive the company is, first came the Nexus 4, then the Optimus G (which was OK), then the excellent Nexus 5 and finally the G2, which everyone was just very confused about.
Well LG has learnt, and hopefully for the last time, that people want things to be simple, and what's more mind-bogglingly obvious than having 'Simple is the new Smart' as your phone's tagline.
The tag line, thankfully isn't just PR jargon, it's real, the G3 is staggeringly simple in what it sets out to achieve, and that is to be the best smartphone you can buy.
So what makes a great smartphone? Well no more gimmicks for starters, so instead the G3 has dumped the huge range of software features that it introduced on the G2 and gone for a 'less is more' approach. No more bloatware and a UI that honestly might be the best of the bunch. If there's one bug bear it's that LG's new design hasn't yet carried through to the pre-packaged apps, so things like Quick Memo and Calendar still look decidedly dated, even if their app icons look effortlessly modern.
The hardware has become simple as well, there's almost no bezel around the phone, which means all the focus is on that massive 5.5-inch Quad HD display. It should be a disclaimer that normally phablets are an irritant, they're big, unweildly beasts that neither excel at being a smartphone or a tablet.
Well the G3 has taken a 'phablet' screen and literally squeezed it into a smartphone body and honestly, it works. The G3 is massive, but you never really feel like it's a bad thing, instead you're just enjoying the fact that the vast majority of what's in your hand is glorious HD.
Which brings us rather neatly onto the screen. It's a Quad HD 2560x1440 display, that means you're looking at a screen which packs in 538ppi which brings it to magazine quality. Which is LGs point, as far as they're concerned that's the stage at which the human eye stops noticing the tiny pixel imperfections.
It's a step up that honestly you won't notice until you watch something like a video, so while in day-to-day usage it's not the game-changing display that LG is making it out to be, it's one of the best displays we've ever seen.
Finally there's the camera, again LG has stripped it right back. Gone are all the complicated menus, replaced by a clutter-free interface that does everything for you. As part of that, LG has included a laser-based autofocus. By shooting out a laser beam, the phone can instantly measure the distance and then focus. The company claims it's the fastest on the market.
In practice? Yes it's really fast, but when you're starting to use milliseconds as a differentiator the phrase 'clutching at straws' does spring to mind.
Thankfully it's just one cog in what is ultimately a very impressive camera, images are clean and (as you'd expect) razor sharp. You can shoot video in UHD, but truthfully find us anyone that has an SD card big enough to store the 4 mins of footage you'll get out of it. Also, who do you know has a 4K TV?
So the software is brilliant, the screen is one of the best and the camera is ultra-quick. How does it feel day to day? It feels confident, not because you're holding a phone that shoots lasers but because you're holding a phone that has a list of jobs it knows you want it to do, and then it does them, effortlessly.
The UI can be a bit jittery at times, which is odd considering there's a mammoth 2.5GHz quad-core processor in there but 99 per cent of the time it just works.
Where people might struggle though is that's it. There are no gimmicks, no magic bullet features, it's just a phone that has everything you'd need and does it extremely well. Think of it as the next-iteration of the Nexus 5, but with a 'premium' angle to it.
The design is subtle and unoffensive, it's nothing to write home about and the continued use of very plasticky plastic is infuriating (Yes Samsung, you're in that bracket too).
Ultimately though you have to ask yourself what you're looking for. If it's attention-grabbing and filled with James Bond-like features than get a Samsung Galaxy S5, it's filled to the rafters with them. If you're looking for a stylish powerhouse then you get a HTC One M8. If however you're looking for a phone that quietly gets on and just does its job then the G3 is for you. It's the Volvo of phones, it's not the best-looking car out there but without shouting about it, it might just be the best performing.
Popular in the Community