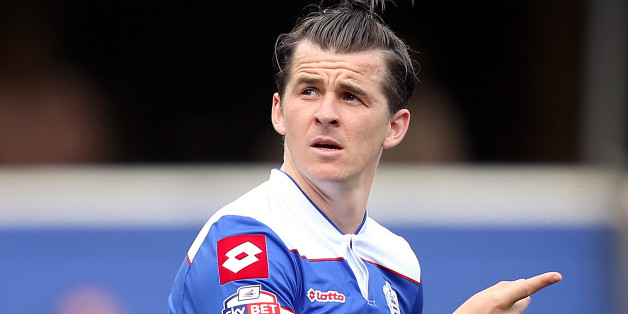 John Walton/EMPICS Sport
A divisive figure on Twitter at the best of times, Joey Barton has sparked a furious debate between fellow star footballers after wading into the escalating crisis in Gaza.
The 31-year-old midfielder, who has more than 2.6 million followers, used the social media platform to highlight his strong views on the Middle East conflict - but the debate was arguably never going to end well after fellow players leapt in feet-first to challenge the 'footballing philosopher'.
More than 800 Palestinians have been killed in 17 days of fighting in Gaza, according to health officials. More than 140,000 people have fled the conflict. Some 32 Israeli soldiers have also been killed, and three civilians have died in Israel from rocket fire.
The Queen's Park Rangers' player demonstrated just how easy it is to spark a backlash over the conflict, after his former team mate Yossi Benayoun angrily replied to Barton's calls for peace in the middle east.
READ MORE: Footballer Joey Barton Sticks A Crunching Tackle On Ukip MEP Louise Bours
It all started when Barton tweeted his disgust at a recent attack that saw 15 Palestinians killed when a UN-operated school within Gaza was struck by shells on Thursday.
The attack on the school in Beit Hanoun is deplorable. #StopKillingChildrenInGaza

— Joseph Barton (@Joey7Barton) July 25, 2014
The former Marseille player then ramped up his criticism of the Israeli army's actions in the Gaza Strip, stating that if it were any other country, the West would intervene.
If this was anybody else but Israel the West would intervene. It cannot continue. Innocent children being slaughtered. This must stop.

— Joseph Barton (@Joey7Barton) July 25, 2014
But Israeli Maccabi Haifa midfielder Yossi Benayoun quickly responded with a sharp rebuttal.
Benayoun, who played alongside Barton during a spell on loan at Queens Park Rangers last season, captained Maccabi Haifa in their friendly against Lille in Austria earlier this week which had to be abandoned when pro-Palestinian protesters invaded the pitch.
@Joey7Barton mate things can never changed you have been stupid and you will stay stupid all your life..embarrassing .

— Yossi Benayoun (@YossiBenayoun15) July 25, 2014
To which Barton couldn't help but reply with a string of rejoinders.
@YossiBenayoun15 Firstly, you cannot call somebody stupid with such bad grammar. Secondly, you cannot and should not kill innocent children.

— Joseph Barton (@Joey7Barton) July 25, 2014
@YossiBenayoun15 Thirdly, you cannot remove people from their land because a fictional book from thousands of years ago tells you can.

— Joseph Barton (@Joey7Barton) July 25, 2014
@YossiBenayoun15 Last but not least, I hope you and your family are safe and well and remain so through this terrible time. xx

— Joseph Barton (@Joey7Barton) July 25, 2014
Barton then laid the blame of the mounting deaths in Gaza firmly at the feet of organised religion.
How can a God stand by and watch this? Or even condone this? Is this all part of his master plan?

— Joseph Barton (@Joey7Barton) July 25, 2014
This is not war. These are not combatants. They are just innocent children. This is ethnic cleansing. pic.twitter.com/Qf9JabG79Y

— Joseph Barton (@Joey7Barton) July 25, 2014
Is God willing to prevent evil, but not able? Then he is impotent. Is he able, but not willing? Then he is malevolent.

— Joseph Barton (@Joey7Barton) July 25, 2014
Is he both able and willing? Then whence cometh evil? Is he neither able nor willing? Then why call him God?

— Joseph Barton (@Joey7Barton) July 25, 2014
New QPR teammate Rio Ferdinand, who is also a member of the vocal footballer Twitteratti, then entered the debate, but, unlike Barton, he "did a Rihanna" and tried to stay firmly on the fence over the matter.
The singer also managed to provoke fury after she apparently tweeted "#FreePalestine", then swiftly deleted it after just eight minutes. But, in a more middle-of-the-road tweet RiRi later posted: "Let's pray for peace and a swift end to the Israeli-Palestinian conflict! Is there any hope?...."
Ferdinand refused to take a side on the matter and simply called for a ceasefire.
All the innocent people being killed, no matter where they live is so sad. The powers that be take some responsibility NOW. #Gaza #Israel

— Rio Ferdinand (@rioferdy5) July 25, 2014
By the way I am not taking any sides, I am simply saying that on both sides there seems to be innocent people dying. Needs to stop.

— Rio Ferdinand (@rioferdy5) July 25, 2014
"@MasihDqq: @rioferdy5 are you supporting Israel or Palestine 😕.." > I'm supporting a ceasefire.

— Rio Ferdinand (@rioferdy5) July 25, 2014
Piers Morgan also faced a furious backlash on the social media site last week after he posted some rather banal comments on the conflict, and in return, was branded "Zionist scum" and called a "f**king fat, ugly, ignorant c**t."
Morgan told the The Huffington Post UK that "the extreme nature of the reaction to my impartial call for both sides to be freed from endless fear and death says it all."
Morgan, who boasts over four million followers, chose to engage Twitter in a "sensible debate" about the ever-worsening crisis, using the hashtag "#FreePalestineAndIsrael."
Unfortunately, Twitter did not want to discuss the matter with the chat show host and instead just chose to mercilessly maul him.
For Barton, however, the general reaction from those on Twitter was favourable, while many turned against Benayoun for his reaction.
The fact I agree with something he said disturbs me incredibly. I need to wash up. RT @MrBure: Joey Barton in talking sense shock!

— Wayward Barrister (@DondeonBeke) July 25, 2014
@Joey7Barton thats how bad israel is behaving, theyre making Joey Barton the voice of reason

— stef benson (@stef_benson) July 25, 2014
Sometimes, I love the way Joey Barton think and write. Sometimes.

— Shahril Mohammad® (@shhrlmhmmd) July 25, 2014
Joey Barton is actually a very clever man, he can just be a proper prick at times.

— Brad (@fortyyardpass) July 25, 2014
Yossi Benayoun has made himself very unpopular today, not least because he's made loads of us agree with Joey Barton

— Neal Underwood (@nealu_freelance) July 25, 2014
Others thought the footballer should stick to football..
Joey Barton / Ballers talking Politics right up there wiv Glamour Models Lecturing on Quantum Physics. Next #JoeyEssex will B on #Mastermind

— Tony Dortie (@TonyDortie) July 25, 2014
@Joey7Barton You don't know the facts. You have no opinion. Your right to freedom of speech should be revoked. #JoeyBarton #foolish

— Arsenefaithful (@Arsenefaithful) July 25, 2014