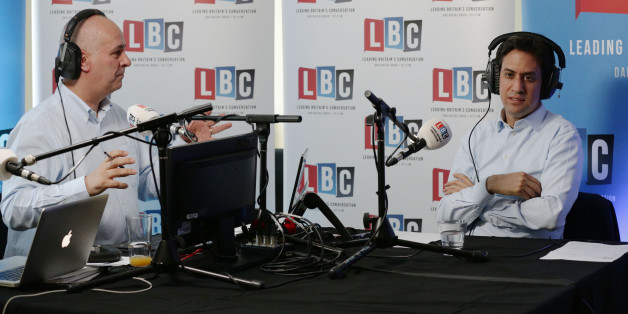 PA
A stay-at-home mother accused Ed Miliband of failing to value parents who choose to care for their children rather than go out to work, after he said a Labour government would not be able to afford tax breaks for them. Mr Miliband said he would "love" to provide additional support for stay-at-home parents, but insisted that in straitened economic circumstances he did not have "an easy solution to this problem".
Mum Imogen Thompson, from Manchester, retorted: "You don't seem to have any solution, Mr Miliband... You are putting no value on unpaid care at home. You are saying that the unpaid work I do is worthless." Mrs Thompson is a spokeswoman for the pressure group Mothers at Home Matter, one of whose members also ambushed Deputy Prime Minister Nick Clegg on the issue on live radio last year.
The clash came in an 50-minute phone-in show on LBC radio, in which Mr Miliband also said that his brother David made the "right choice" to quit British politics after losing the battle for the Labour leadership to him, and turned his fire on Ukip, saying that Nigel Farage's party "don't offer a future for working people in this country". Mrs Thompson said that her family was losing child benefit - which the coalition has withdrawn from couples where one partner earns £50,000 or more - but was not benefiting from tax-free childcare offered to couples who both work, even if they earn as much as £300,000.
She asked Mr Miliband how Labour would "stop stay-at-home parents being penalised in the tax system", adding: "My husband is the sole earner in our household, we work as a very hard-working team and I care for our children. We have forfeited my salary in order to provide childcare at home. We can't make use of my personal tax allowance, I can't transfer a penny to him. There are no tax allowances that recognise family care responsibilities as in other OECD countries.
"Single income families like mine pay a disproportionate amount in tax, which eats into the amount left to house, clothe, feed and raise my children." Mr Miliband responded: "This is one of those things where I could try to give you an easy answer, but I can't give you an easy answer. I don't have an easy solution to this problem. We need to keep taxes as low as possible on your husband who's going out to work. I wouldn't have chosen to make the child benefit change, but we are going to have trouble reversing that. I don't say there's an easy answer to this. Sometimes there aren't easy answers."
To Mrs Thompson's suggestion that it would be fairer to offer tax allowances to all families with caring responsibilities for children, Mr Miliband replied: "I would love to do all of this, but where is the money going to come from? Part of my responsibility is to make sure that we deal with the nation's finances properly, we get the deficit down. That's what we've said we'll do. I would love to do the things you say. At the moment I don't think we've got a source of money to do that, but I totally understand the injustice you feel."
He rejected her accusation that he did not value parents' care for their children, saying: "I put a lot of value on it and that's why, for example, I'm a great supporter of paid maternity leave which gives something to new mothers, and other things, but I don't have an easy solution to that. We've got an incredibly difficult set of economic circumstances we are going to have to deal with."
Speaking after the show, Mrs Thompson told the Press Association: "It was disappointing, frustrating, that Ed Miliband has fallen into the same category as the other main parties in that care responsibilities are of no value to the society they want to create." Mr Miliband was asked by another caller whether his readiness to fight his brother for the Labour leadership in 2010 showed he had "the ruthless streak to become Prime Minister".
He responded: "It was really tough taking on my brother. It's the toughest thing I've done. The reason I did it was because I thought I had something distinctive to say about how Labour needed to change and move on from New Labour and how the country needed to change, and I thought I was the best person for the job and the best capable of doing that. It was painful and it was really hard."
Asked about the current state of his relationship with David - who quit as an MP and moved to the United States to head the charity International Rescue - Mr Miliband said: "Better, I would say. A lot better. We talk quite a lot. Of course, he's in the States, but we talk, we text, we email. It's been tough and it's got a lot better. He ended up concluding that he was better off out of politics, because he didn't want the soap opera. In the end, I think he made the right choice and he's very happy doing the job he's doing and that's made it a lot better."
Mr Miliband was also confronted by a caller called Matt, from Lincoln, who said his family were lifelong Labour voters but had switched to Ukip and asked: "When will Labour start representing the working man again and not the Islington elite?" The Labour leader responded: "Ukip don't represent working people.
"I genuinely don't believe that. When you look at what Ukip are actually offering, they are saying they want charges for the NHS, they want to have bigger tax cuts than the Conservatives for the richest in our society... (Nigel Farage) has said he wants to keep the flame of Thatcherism alive. I don't think that's an agenda for working people."
Mr Miliband also said he will be spending 10 days of his summer holidays in the French countryside this year. And in response to a caller who asked what refurbishments he would make to Downing Street, he insisted he was not taking the result of next year's election for granted and had not started "measuring the curtains" at Number 10.
SEE ALSO: