The 2014 Commonwealth Games drew to a close on Sunday - so in time-honoured tradition the hosts, Glasgow, were required to pull off a blinder of a party in celebration.
So it was a bit of an odd sight to see this...
Anyone know what's going on here? #Glasgow2014#closingceremony

#CommonwealthGameshttp://t.co/iRmJ4LJBtwpic.twitter.com/iVsS6BFbAz

— HuffPostUK Pictures (@HuffPostUKPics) August 3, 2014
It was in fact a tribute to the city's workers, not a reenactment of 3am on a Sunday morning in Glasgow.
Just catching up on the Commonwealth closing ceremony. Deacon Blue play while a bin lorry drives about. Brilliant.

— Benjamin Partridge (@benpartridge) August 3, 2014
Then it was time for the music.
To those wondering what accent Lulu will be using - it's a lottery. I've counted at least five during rehearsals #Glasgow2014

— Martyn McLaughlin (@MartynMcL) August 3, 2014
LuLu obviously hasn't decided which of her accents she'll be using tonight. #ClosingCeremony#Glasgow2014

— Paul Cruikshank (@PAShanky) August 3, 2014
Fair play, Lulu sounds much better than Sir Paul McCartney does these days, and she's had a sore throat for 40 years #CommonwealthGames

— Greg Jenner (@greg_jenner) August 3, 2014
At the age of 27, 'Dignity' by Deacon Blue is older than most medal winners at #Glasgow2014

— sportingintelligence (@sportingintel) August 3, 2014
So after a mixed reception for Lulu and Deacon Blue, fevered expectation soon turned to bored bafflement as people pitched a load of tents and settled down to listen to some speeches.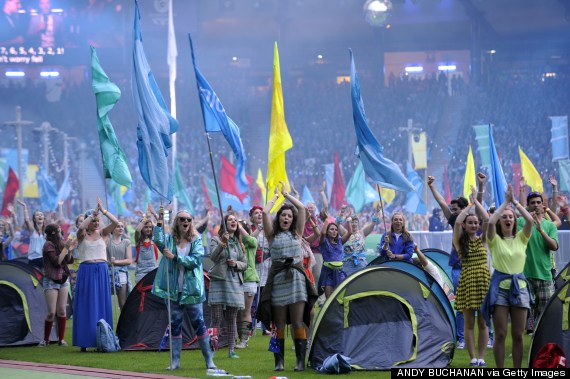 Did all the budget go on tents rather than performances? When is something gonna happen? #bbcglasgow2014#closingceremony

— Sammy (@SamJCL) August 3, 2014
I'm not saying this is bad, but I accidentally recorded an episode of Doc Martin once and I'm contemplating watching it.

August 3, 2014
Lots and lots of speeches...
If the #closingceremony is a typical night out in Glasgow, the speeches are the bit where a random drunk just won't stop talking to you.

— Kelly (@shoedoll) August 3, 2014
Yay- more speeches! This is a great night for speeches. If not a night for great speeches. #closingceremony

— Nigel Fletcher (@nigelfletcher) August 3, 2014
Jesus. Those speeches did go on a bit but one can't believe it's New Year already. #closingceremony

— Elizabeth Windsor (@Queen_UK) August 3, 2014
This ever-so-weird video-bombing was widely held to be the highlight of the first half of ceremony.
Tom Daley gets video-bombed #CommonwealthGames#closingceremonyhttps://t.co/oM8nbUXr0i

— HuffPostUK Pictures (@HuffPostUKPics) August 3, 2014
At this point many were reminded of the opening ceremony which, if remembered rightly, contained much more dog than speech.
Still awake? Here's a reminder of how good the opening ceremony was http://t.co/0RM3cEKOtS#closingceremonypic.twitter.com/4sUSWbQkxe

— HuffPostUK Sport (@HuffPostUKSport) August 3, 2014
Then it was the turn of the Aussies. In 2018, the Commonwealth Games will be held in the invariably sunnier Gold Coast, so it was their turn to impress.
They started off with a singer no one in Britain had ever heard of before - although 'singer' might have been a stretch...
Someone forgot to tell her that when you're miming you're still supposed to move your lips #closingceremony

— Fergus Smith (@FergusTSmith) August 3, 2014
I admire this Aussie girls ability to mime flawlessly half a beat behind the music. It's like she's miming over Skype. #closingceremony

— Kyle (@KyleCortex) August 3, 2014
Understandably, the hype for main act, Kylie, grew...
No pressure Kylie. Just an entire ceremony to salvage in three and a half minutes #closingceremony

— Chris York (@ChrisDYork) August 3, 2014
All of this will be quickly forgotten if we get Kylie & Alex Salmond duetting on Especially For You #closingceremony

— tom jamieson (@jamiesont) August 3, 2014
And she was brilliant!
What a party Glasgow! I got to hear Kylie sing the Locomotion I can die a happy lady now. #closingceremonypic.twitter.com/kEiF8wREih

— Laurie (@laurie_and) August 4, 2014
I like to imagine Jason Donovan at home, wearing the same outfit as Kylie, and dancing along silently.

August 3, 2014
Costume change for Kylie. Next time, she's coming on dressed as a deep-fried Mars Bar, just to stick it to Lady Gaga. #closingceremony

— SimonNRicketts (@SimonNRicketts) August 3, 2014
Although some questioned the performance's authenticity.
Glasgow party my arse! When does somebody's Dad get up and tell Kylie "Sit doon hen, I'll show u how it's done"

— joe heenan (@joeheenan) August 3, 2014
If this really was "a night out in Glasgow" surely Kylie would have been bottled by now? #closingceremony

— Ian Hyland (@HylandIan) August 3, 2014
But some couldn't be more chuffed.
Cracking night, colour, lights, fireworks, deacon blue, kylies arse. Not bad for £15 #closingceremony#Glasgow2014pic.twitter.com/ZgfzAxjG6d

— Ryan Beer (@ryanbeer) August 3, 2014
But whatever your opinion, there was no need to worry, help was on hand...
Just a reminder of the number you can call if you have been affected by any issues raised during the closing ceremony... #lasttimeipromise

— Ian Rankin (@Beathhigh) August 3, 2014
And no matter what, it was always going to turn into a party.
this being a proper glasgow closing ceremony there will be a lock-in till 4am

— Keri (@kerihw) August 3, 2014
Although some had other plans.
The tragedy is that Alex Salmond has no idea the closing ceremony will end with his death in a wicker Donald Trump #CommonwealthGames

— Sarah Dempster (@Dempster2000) August 3, 2014
SEE ALSO: The Funniest Tweets About The Opening Ceremony