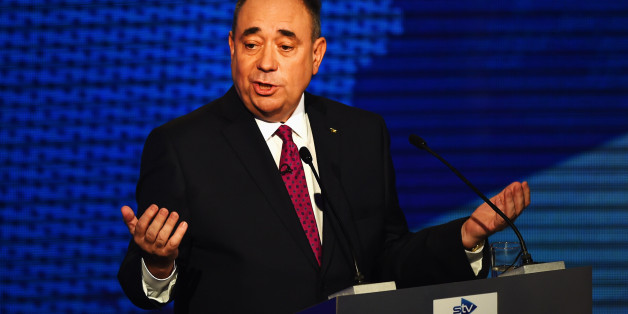 Jeff J Mitchell via Getty Images
Alex Salmond's Scottish independence plans have received a fresh blow as research found that most financial experts in Britain believe they make "no economic or financial sense".
The news comes after the First Minister clashed with former Labour chancellir Alistair Darling in a live televised debate on Scottish independence on Tuesday night, in a confrontation that post-debate polling found he had narrowly lost.
In a poll of over 350 finance professionals across Britain, accountancy recruiter Marks Sattin found that only one in ten (11%) agreed with Salmond's arguments for Scottish independence, while over two thirds (68%) disagree, and a fifth (22%) remain undecided on the issue.
SEE ALSO:
David Watt, executive director of the Institute of Directors business group in Scotland, praised Darling's performance in Tuesday's TV debate.
Blogging on the Huffington Post UK, he wrote; "On balance, I think Mr Darling will be seen as performing better than expected while I suspect Mr Salmond's followers will be disappointed that his expected triumph did not materialise - though both live to fight another day, where both could do better."
"On tonight's performance Mr Darling I suspect will be relieved and Mr Salmond feeling he missed some opportunities."
On The Blog: David Watt - "Both Sides Were More Confused Than Convinced in Last Night's Scottish Independence Debate"
In response to the poll revealing the lack of support among financial advisers for Salmond's plan, Dave Way, managing director of Marks Sattin said: "Our research suggests the overwhelming consensus among UK finance professionals is that the numbers simply don't stack up in favour of Scottish independence. With the debate hotting up as campaigns turn the final corner towards September's referendum, it may well be the fiscal fight that clinches public opinion.
"Scotland's financial services sector has clearly thrived in recent years, increasing by a quarter since 2007. A 'yes' vote will inevitably usher in radical changes in terms of currency, interest and exchange rates and wider business finance.
"The challenge of setting out Scotland's stall as an independent nation would call for significant fiscal and monetary expertise, not to mention fundamental leadership and change management skills."
However, Tony Banks, chair of the pro-independence Business for Scotland group, dismissed the survey as "an insult to the people of Scotland".
"This is a survey of a very small number of people who were polled online without any idea of who responded or where they are based and is simply not a credible poll," he said.
"This doesn't say anything about the confidence or otherwise of Scotland's finance professionals on independence or anything else. Polls like this are little more than an insult to the people of Scotland who are engaged in a huge debate about the future of our nation and they should be shown more respect."