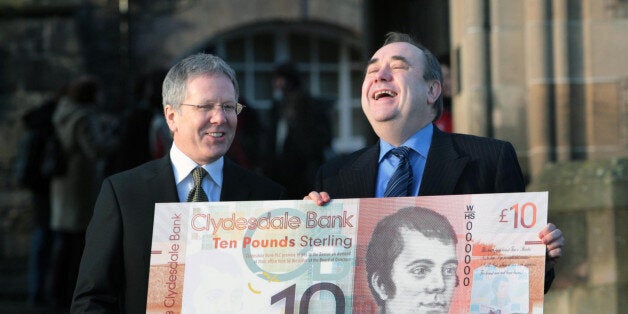 The owner of Clydesdale and Yorkshire Banks has warned of the risks of Scottish independence, saying it could bring "significant additional costs".
National Australia Bank (NAB) said it had made contingency plans should the referendum next month turn out in favour of a split from the UK.
Meanwhile, Clydesdale and Yorkshire Banks saw provisions for dealing with past mis-selling scandals swell to more than £800 million as its boss admitted the way it had dealt with payment protection insurance (PPI) claims had "not been consistent".
Changes to this process are likely to result in higher pay-outs and revisions to past compensation, NAB said. The warning on independence comes after Royal Bank of Scotland earlier this month reiterated its stance that a Yes vote could have a "material adverse effect" on it.
Chief executive Andrew Thorburn referred to the Scottish referendum as one of a number of challenges facing NAB's UK operations - in addition to charges for past conduct.
He said: "A vote in favour of independence may give rise to significant additional costs and risks for Clydesdale Bank. We continue to closely monitor the situation and have appropriate contingency planning in place."
Thorburn's remarks mark a change in tack, as Clydesdale has previously stayed out of the debate. A spokesperson said in April: "We consider the environment in which we operate as part of our normal planning process and continue to closely monitor the referendum debate."
The NAB chief added that the group would need to take further provisions for the full year for PPI mis-selling compensation as well as for misconduct over interest rate hedging products - complex financial products that were sold to small firms.
NAB reported cash earnings up 7% to 1.6 billion Australian dollars (£891 million) for the third quarter to the end of June as bad debt charges in Australia and the UK fell. Meanwhile, last month it disposed of £625 million of UK commercial property loans.
The group said it expected to make an additional £75 million provision at the end of the financial year because of "increased costs of administering the PPI remediation programme". This takes the total put aside for PPI redress to £461 million.
Meanwhile, provision for interest rate hedging products will be nearly doubled, with an additional sum of at least £170 million set aside taking the total to £350 million. It will take the total running cost for both scandals to £811 million.
David Thorburn, chief executive of Clydesdale and Yorkshire Banks, said: "In line with the industry, we continue to deal with legacy issues.
"The way we've handled historic PPI complaints has not been consistent, and we are committed to putting this right.
"We have already introduced a new PPI complaint handing process, and we will also apply this new process to a systematic and proactive review of all past PPI complaints.
Popular in the Community