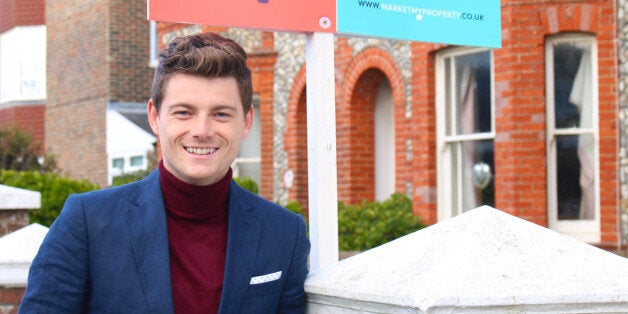 Tom Webster was bit by the entrepreneurial bug early on, starting his first venture at the age of nine, a line of comic books which he would sneak into school to sell.
With two successful entrepreneurs as parents, Webster was inspired to carve out his own path in business. The 26-year old businessman has gone on to start a range of ventures, including a nightclub promotions company, a modelling agency and a fashion line. He has also had a number of sidelines, like selling sweets - along with his comic books - at school.
More recently, Webster has been managing his own financial advisory firm, Fordyce & Playle, and a new online estate agency, Market My Property. He's ambitious and has his eyes on success, hoping one day to be the youngest entrepreneur to sit as an investor on Dragon's Den.
HuffPost UK caught up with him to find out how he got going in business and where the serial entrepreneur is headed.
So you first got started with Dinky Comics at school, how did that happen?
I would very much consider money making in my blood. Both my parents are successful entrepreneurs and since I was little, if anyone asked me what I wanted to be when I grew up, the answer was always "to be a millionaire!".
Some friends and I used to draw doodles and make our own mini comic books for fun and classmates would ask us to make comics personal for them. I then realised that if we organised what we were doing, we could sell the comics on a bigger scale in the school hall at lunch time, which we did and made a few hundred pounds in the process.
Being a bit cheeky at one point, I brought loads of £1 book vouchers off friends for 50p as they would rather have the cash. Our local book store was doing a special on a £5 book that could be brought for the £1 voucher, which I then sold loads of at a discounted price of £3.
What about Market My Property? How did you get started with that?
I first saw the concept of online estate agencies about four years ago and knew that this was the future of home-selling, but it was early days for the market so I thought I'd keep an eye on how it develops as a viable service.
As an owner of a financial advice practice, I know that having multiple revenue streams is key to success, I started to look into estate agency franchise schemes and partnerships but none of them impressed me and they were wildly overpriced for what I knew I could do better myself.
The idea for me was to develop something that would generate more mortgage leads my advisory practice through new business as well as offering existing clients a new product offering and estate agency made the most sense as they lend to each other so well.
I ploughed straight into getting Market My Property launched with the help from a government-backed start up loan, with a big focus on digital branding and exceptional customer service.
Our team is made up of digital marketing experts, an estate agent with over 30 years' experience and me running the day to day of everything.
I have found that selling houses is actually really easy as long and the price is right and the marketing is perfect, the rest just falls into place because of the property portals Rightmove and Zoopla. The tricky thing for us is getting properties to list!
Most estate agents are complaining of a lack of stock at the moment so for us our challenge is to prove to people that we can do a better job than the high street and still save people thousands.
What about Fordyce & Playle [the advisory practice]? What are you aiming to do with that?
Fordyce & Playle is very much a sleeping giant. I was approached by an old client of mine to take over his business so he could retire knowing that his clients are left in the best possible hands, which was extremely flattering.
It has been around for about 11 years and has built a sterling reputation in the local area for quality advice and customer service.
I have recently instructed a creative team, Pixeldot Creative, to refresh the branding, and am planning after this re-brand to bring on more financial advisers and open up to more 'introducer' partners.
How are things going now?
It's very early days for Market My Property as we have only been trading for two months, but all is very much on target and we are getting paying customers coming through the door, which is great at such an early stage.
Fordyce & Playle is going from strength to strength, I took the business over with an overdraft of £11,000, making monthly losses, to turning it around to monthly profits and ended the year with a very healthy cash surplus. This year, we are on target to more than double the company profits even with the large investment into re-branding.
Who are your business inspirations?
Both my parents are my biggest inspiration in life as well as in business. My mum was only 18 when she had me and my dad was 20, we were poor when I was young but they worked so hard that I never went without.
My dad took a big risk at the age of 30 with a young family and launched his own business 'Connect Mortgage Services' which went on to make millions of pounds. When the recession hit, Connect sadly folded. Seeing the pressures my dad went through in these tough times was really hard, but seeing the success he has made from his new business in a completely new industry is nothing short of inspirational.
What is your aim over the next few years, and longer term?
I'm currently working on a unique franchise scheme for Market My Property which will mean we can be a national operation in less than 12 months. I would love to float Market My Property [on the stock market] before my 30th birthday that would be a great achievement for me.
I need to hurry up but I think I'm still on target to be the youngest entrepreneur on Dragons Den, I want to sit there in shorts and flip flops and invest in everyone that walks through the door!
Popular in the Community