School uniforms are not meant to be cool, says the headteacher from the reality TV show Educating Essex, who has spoken out against an advert for Marks & Spencer's new school uniform range.
The advert appears in today's copy of The Times, and shows a schoolboy leaning on a chair, wearing M&S's skinny fit school trousers and slim-fit shirts.
The slogan "secondary modern" appears next to him, along with the line "for when they want to look cool, without breaking the rules".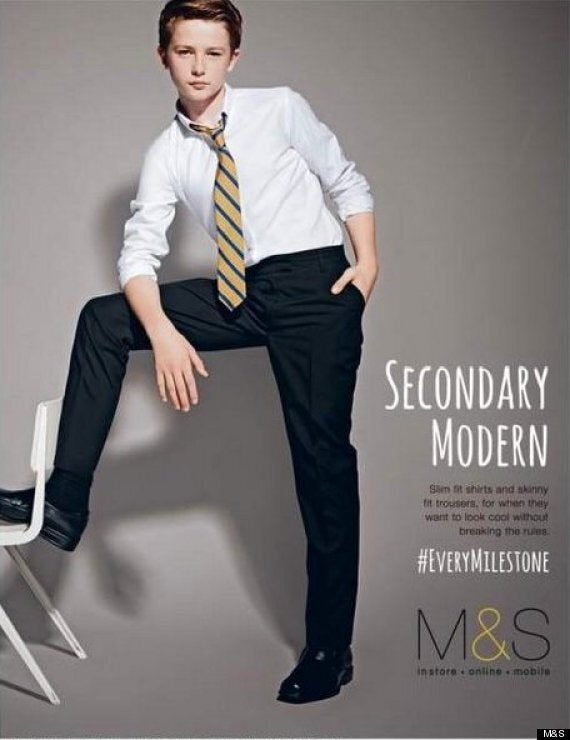 The M&S advert is in The Times today
Brentwood County High School headteacher Stephen Drew, who appears on Channel 4's show Educating Essex, spoke on BBC Radio 4's Today programme this morning, and said that the retailer made a mistake trying to make school uniform look "trendy".
He said: "If they truly believe school uniform can be cool, then maybe some of the 20- and 30-somthings designing these clothes have forgotten what it's like to be a child. School uniform isn't cool. It's not meant to be cool."
Quizzed by Today presenter John Humphreys, Drew explained: "It's a functional school uniform, it's not designed to be trendy or attractive. It's designed to be simple and functional. It's designed to be as inexpensive as possible and just to allow learning.
"If you're going to have something that's as inexpensive as possible, it's not going to be cool, it's not going to be beautiful."
Back-To-School Fashions You Can Wear As An Adult
The newspaper adverts have been running since last week. A source told The Huffington Post UK that the campaign was a tactical move, to promote the skinny fit trousers which are particularly popular among boys, just before most kids go back to school.
Twitter users also considered the advert a flop.
Unlike the rest of M&S's current ad campaign, the newspaper ad was created by M&S's in-house teams rather than its usual advertising agency, which is famed for its food ads with the sultry voiceover saying: "This is not just food, this is M&S food..."
A spokeswoman for M&S told The Huffington Post UK: "This ad is part of our popular #everymilestone campaign and reflects the growing demand for uniform with stylish, modern cuts – like skinny and slim fit - that also retain the practical and durable features our customers love."
In contrast to response to the "secondary modern" advert, Twitter commentators have expressed their love for a film which is part of M&S's wider campaign, featuring a young girl explaining how she has learnt to get dressed by herself.