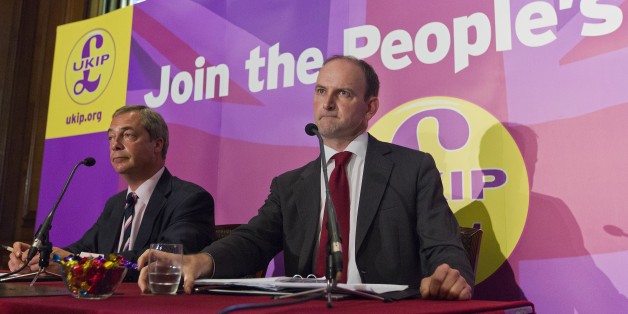 JUSTIN TALLIS via Getty Images
Ukip's claim that several Labour MPs could follow former Tory Douglas Carswell and defect to Nigel Farage's party has been derided as "wishful thinking" by one of the most eurosceptic Labour backbenchers.
Labour MP Austin Mitchell, who backs the cross-party Better Off Out campaign which pushes for withdrawal from the European Union, said he had not been approached by Ukip, adding: "I wouldn't defect anyway."
"I'm a loyalist," he added. "I think it's better to be that way than to get stuck in rows about the European Union."
Mitchell's remarks are significant as his Great Grimsby seat, which he has held since 1977, is the only Labour-held seat in Ukip's twelve top target seats that they reportedly aiming to take at the next election. He is also part of the Labour for a Referendum pressure group.
The outspoken Labour MP said suggestions from senior Ukip figures today that several colleagues from his party could leave were just "wishful thinking" and, when pressed, could not name any colleagues who might be at risk of defecting.
By contrast, Tory MP Douglas Carswell, who announced yesterday that he was defecting to Ukip, has the "most Ukip-friendly" voters in his Clacton constituency.
See also:
Ukip leader Nigel Farage insisted today that his party had been having conversations with Labour MPs over recent months "who very strongly support everything Ukip is trying to do."
Meanwhile, a Ukip source told the BBC's World at One that there were up to ten "deeply unhappy" Labour MPs not in marginal seats who were "fed up with being patronised by the Labour glitterati".
Mitchell, who is stepping down next year, has repeatedly stirred up controversy in the last few months. The Labour MP previously branded the American drugs giant Pfizer "rapists" and invoked Nazi slogans to mock the election of Jean-Claude Juncker as European Commission president.
See also: