GQ Magazine has defended its decision to name Tony Blair its "Philanthropist of the Year" after the award was widely met with disbelief and horror.
Awards producer Richard Dodgson stood by the publication's much criticised move, telling BBC Radio 5 Live it was "fantastic having Tony," as the magazine likes to have celebrities at the event who "cause a bit of a stir."
The magazine certainly achieved that aim, with thousands of incredulous social media users frothing at the mouth over the "jaw-dropping" decision.
The former prime minister, who earns millions from his consultancy roles and property empire, was handed the accolade at the glamorous ceremony on Monday to a reportedly "muted" response.
GQ clarified its decision on Wednesday, sharing a column in defence of the prime minister on Facebook which argued "whatever your views on Iraq, in many ways we would be lucky to have Blair back in British politics today."
In the magazine's rebuttal, Commissioning Editor Charlie Burton wrote that Blair "fundamentally transformed the country."
What's the first thing that comes to mind when you think about Tony Blair? The man who spent ten years in Downing Street has left an undeniably formidable legacy. Perhaps it's the enduring peace in Northern Ireland, which he brokered in the build-up to the Good Friday Agreement? Or the 1.4 million people in the UK making a tenable living as a result of the minimum wage? No? Us neither. Betting is, you're thinking of one thing: Iraq. Coffins draped in Union flags. Abrams tanks rolling through scarred thoroughfares. Blood on sand.
Burton argues "the Iraq War polluted our judgement of everything else that he has done."
At the GQ Awards, Blair was praised by the editor of the magazine, Dylan Jones, for his "tireless charity work across the world" and "reconciling three Abrahamic faiths" and working alongside governments in Sierra Leone, Rwanda, Liberia, Guinea, Nigeria, Ethiopia, and Senegal.
The Middle East peace envoy has advised Kazakh leader Nursultan Nazarbayev, including on how to improve his image after his police killed 14 unarmed protesters, it was revealed last week.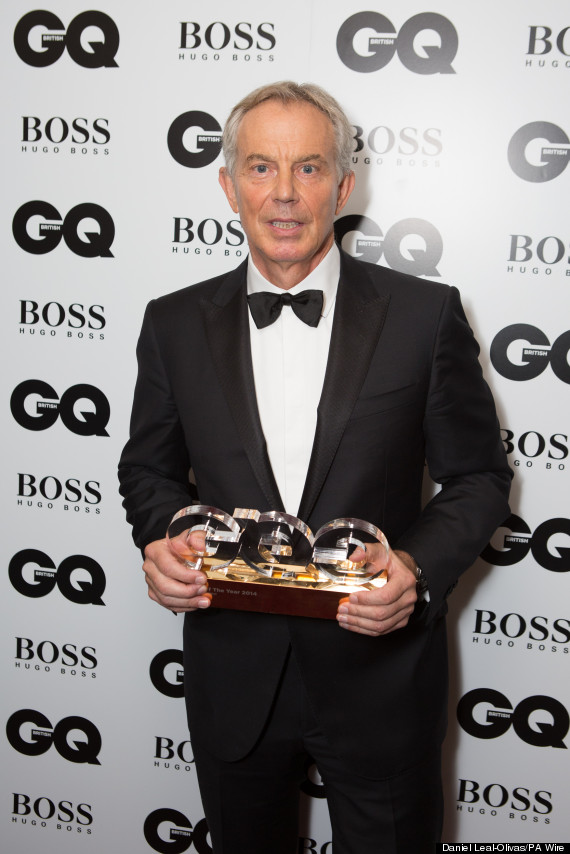 Tony Blair after winning the GQ award for best Philanthropist
Yesterday, many queried whether the award was supposed to be ironic, particularly when reality TV star Kim Kardashian later picked up GQ's Woman of the Year award.
Nevertheless, Dodson defended the decision, saying, "We like to have celebrities at our event who cause a bit of a stir. So having Tony was fantastic. We like to have people who have opinions and are forthright."
But the timing couldn't have been worse for the former Labour leader, who is often blamed for the violent insurgency gripping Iraq after toppling Saddam Hussein in 2003, as the prize was handed out on the same night a video was released showing the brutal execution of a second US journalist by Islamic State militants.
On receiving his award from the magazine, owned by publishing giant Condé Nast, at the Royal Opera House in Covent Garden, Blair, 61, said: "I would like to dedicate this award to the people that work with and for my organisations."
But GQ magazine's decision to give the award to Blair, who has launched three foundations, was met with shock.
Tony Blair has won Philanthropist of the Year at the GQ Awards, seeing off tough competition from Kim Jong Un, and ISIS

— James Headspeath (@JHeadspeath1988) September 2, 2014
Apparently, Tony Blair has won GQ's philanthropist of the year award. Finally these awards have grasped irony!

— Gary Lineker (@GaryLineker) September 2, 2014
Of course, 'Philanthropist of the Year' & Middle East 'Peace Envoy' Tony Blair probably has all the answers...For a price.

— James O'Brien (@mrjamesob) September 3, 2014
What does this mean for the value of my Tony Blair '2003 GQ Politician of the Year' award? Two careful owners. Will consider P/X.

— Damian McBride (@DPMcBride) September 2, 2014
People think I'm joking when I say Tony Blair has been named #GQAwards Philanthropist of the Year.

It's real. Realer than WMDs in Iraq

— Will Black (@WillBlackWriter) September 2, 2014
SEE ALSO:
Tony Blair should have won an award for being the least effective Middle East peace envoy EVER #GQAwards

— ValleyGirlInTheCity (@AmyMouse12) September 3, 2014
GQ philanthropist of the yr: Tony Blair. Piers Morgan scoops one for outstanding journalism & award for feminist hero goes to Katie Hopkins.

— Bella (@bellamackie) September 2, 2014
The chap who now profits from the wars he started and perpetuated gets 'GQ Philanthropist of the 2014' #WTF http://t.co/FOJD0Hsu7B

— Allon Lister (@allonlister) September 3, 2014
The only award Tony Blair should receive is for best behaved prisoner.

— Neil Mitchell (@nrm1972) September 3, 2014
TonyBlair is an interesting philanthropist. Historically, ppl make money then give it away. He seems to be making money as a philanthropist.

— Alastair Somerville (@Acuity_Design) September 3, 2014
People shouldn't be so angry with GQ. I also often confuse the words "philanthropist" and "war monger" #tonyblair

— Sophia Walker (@PoetWalker) September 3, 2014
Tony Blair. "philanthropist of the year". Best Joke since Kissinger won the Nobel Peace Prize for bombing Cambodia. #GQMenOfTheYearAwards

— Nelson Jones (@Heresy_Corner) September 2, 2014
Bomber Blair wins Philanthropist of the Year. Jeremy Clarkson will be winning award for political correctness next http://t.co/gPGQsRTFXF

— Chris Doyle (@Doylech) September 2, 2014
Tony Blair winner of @BritishGQ Philanthropist award. Did they mean to be ironic?

— Janaya Walker (@jcourtnayw) September 3, 2014
Is this some British humour that us foreign fools don't get? "Tony Blair named 'philanthropist of year'" @Telegraph http://t.co/UrsrPsQEZH

— Banker's Umbrella (@BankersUmbrella) September 3, 2014
Blair's award was even criticised by an MP from his own party: "It sends the wrong message. This sort of award should go to an unsung hero who has given up their time for charity," John Mann MP said, according to the MailOnline.
The full tribute to Blair on the GQ website read: "In 2007 Tony Blair stepped down as prime minister, but his surging momentum's shown no signs of slowing.
"Alongside his role as a Middle East peace envoy, Blair's channelled his energy into philanthropy, establishing three charities.
STEVEN SOTLOFF MURDER:
"The Tony Blair Sports Foundation pairs volunteer sport coaches with children in Britain's North East and his Faith Foundation aims to reconcile the three Abrahamic faiths, but his most ambitious is the Tony Blair Africa Governance Initiative.
"Launched in 2008, the foundation operates in six African countries – Sierra Leone, Rwanda Liberia, Guinea, Nigeria, Ethiopia and Senegal – where teams work alongside government bodies to bridge the gap between African leaders' visions for a better future and their government's ability to implement it."
Blair is a Special Envoy for the Quartet Representative, a mandate to help mediate Middle East peace negotiations between Israel and Palestine.
In 2012 the Quartet described as being "useless, useless, useless" by senior Palestinian officials.
Senior Palestinian officials and analysts told The Independent "the statement of the Quartet really means nothing because it was always full of what they call constructive ambiguity that really took us to nowhere."