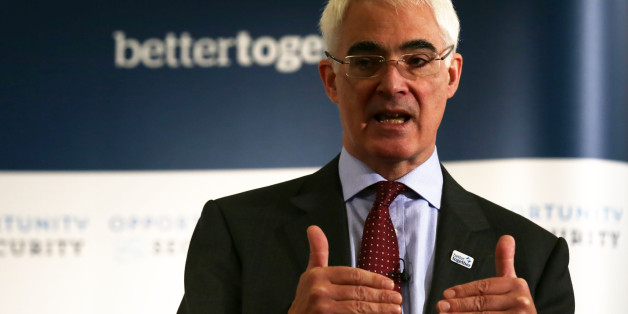 David Cheskin/PA Archive
Alistair Darling has insisted he is "very confident" that voters will reject independence, despite a shock poll suggesting the United Kingdom could be consigned to history in 10 days' time.
The leader of the Better Together campaign said the gap between support for the Yes and No campaigns had always been expected to narrow and dismissed claims that the pro-union campaign was now being forced into panic measures to shore up support.
But the snowballing momentum behind the separatists has sent the pound plummeting to a 10-month low of just below 1.62 versus the US dollar and Scotland-based financial institutions have also taken a hit, with Royal Bank of Scotland, Lloyds Banking Group and Standard Life shares falling by more than 2%.
David Cameron, who spent the weekend with the Queen at Balmoral, will attempt to convince sceptics this week that Scotland will get significantly more autonomy even if independence is rejected.
Labour is deploying some of its biggest beasts to try to halt the apparent nationalist surge - with Ed Miliband also stressing that extra powers will start being devolved "right after" a No vote.
Darling dismissed suggestions that plans to outline the handover of more powers this week were little more than a bribe.
He told BBC Radio 4's Today programme: "The additional powers coming to the Scottish Parliament were announced by the party leaders north and south of the border some time ago.
"People have said yes, we want to know the timetable and the process, and that is something that the Government is going to announce this week."
He added: "I have always said that the polls will narrow because this is a huge debate. We are seeing record amounts of people registering to vote."
Darling said voters were "very alive to the risks" in breaking away, particularly the uncertainty over the currency.
"I believe that we will win this referendum because a majority of people in Scotland do want to ensure that there is a better and stronger future for themselves and the generations to come," he said. "I'm very confident we will win the day."
The final stages of the referendum campaign have been ignited by YouGov research for the Sunday Times that put support for independence in the lead for the first time at 51% compared to 49% for No.
Although the poll excluded those who are undecided or do not propose to cast a ballot, the result suggests the vote is now wide open.
Former Labour first minister Henry McLeish said the "major deficiency" in the No campaign has been its failure to reach out to the "heart and head".
He told Today: "The campaign so far has been narrow, it's been negative, it's also been patronising and it's really lacked emotion, lacked passion, lacked soul."
Shadow chancellor Ed Balls, who will be in Aberdeen later, has used an article in the Daily Record to entreat Scots not to use their votes as a "protest" against "callous" Tory policies emanating from Westminster.
It marks a stunning turnaround for First Minister Alex Salmond's campaign, which was trailing by 22 points just a month ago.
Another survey, by Panelbase, put the pro-union side slightly ahead of No at 52%, with 48% favouring independence.
Finance Secretary John Swinney told Today: "Obviously the momentum and movement in the campaign has been in our favour but I think it's a pretty fair assessment of the polls to show that the Yes campaign still remains behind in general, we certainly are in the poll of polls, but the movement is in our favour and the campaign is exciting an enormous amount of interest and activity and participation on the ground across Scotland."
Writing in today's Daily Telegraph, Tory mayor of London Boris Johnson made an emotional appeal to keep the UK together, warning that Scottish independence would be "an utter catastrophe for this country".
"We will all have lost a way of thinking about ourselves, a way of explaining ourselves to the world," he wrote.
"We are on the verge of trashing our global name and brand in an act of self-mutilation that will leave our international rivals stunned, gleeful and discreetly scornful."
Chancellor George Osborne promised yesterday that a "plan of action to give more powers to Scotland" would be unveiled in the next few days, detailing the timetable and process of any further devolution.
Responding to the slump in the pound, Scotland's Deputy First Minister Nicola Sturgeon told BBC Radio Scotland's Good Morning Scotland programme: "It's not unusual in political campaigns, or indeed on budget days, for the value of the pound to fluctuate. I think that would suggest that the financial markets see Scotland as a strong economy.
"But, of course, we've made very clear that we want to continue with a currency union. If the UK Government was prepared to sit down with the Scottish Government today, we would do that and it would be within our powers jointly to give reassurance there.
"It is the UK Government that's creating the uncertainty by refusing to have those sensible discussions."