After last week's Yougov poll placed Yes support at 51%, Westminster has roared into action, with all three major party leaders rushing to Scotland to campaign for a No vote.
Now, the latest Survation poll gives the No campaign a lead of 54% to 46% - when undecided voters are excluded.
It comes after a Survation poll for the Daily Record on Tuesday found 53% of Scots plan to vote No on September 18, with 47% saying they will vote for independence, excluding undecided voters.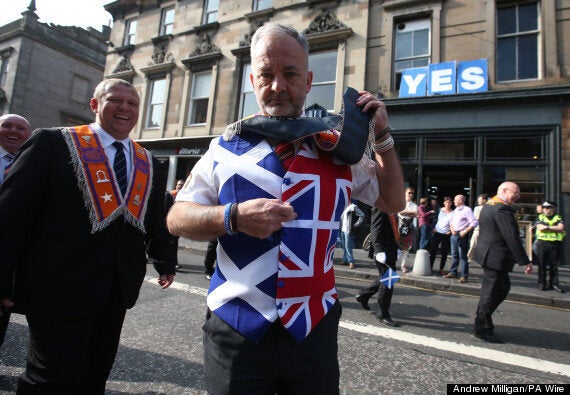 Members of the Orange Order marched against independence in Edinburgh today
The latest poll, commissioned by No campaigning organisation Better Together, said 47% of the total people polled said they would vote no, while 40.8% would vote yes.
Blair McDougall, the director of Better Together, said: "This poll suggests that No are in the lead but that the race is far from over. No-one can afford a protest vote. Any one of us could cast the vote that makes the difference between the UK staying together or breaking apart.
"This week employers and retailers have set out the real economic costs of separation. They have made it clear that jobs will be lost and that prices will rise if there is a yes vote.
"When we can have better, safer, faster change as part of the UK, why should we risk the costs of separation."
Asked to rate their likelihood to vote on a scale of 0-10, 93.1% rated themselves as 10.
Better Together said the poll also found that 40% of voters believe they and their families would be financially worse off compared to 27% who believe they would be better off.
The survey was conducted between September 10 and 12.
Meanwhile, senior figures in the Orange Order have described Scottish nationalism as "a divisive and evil enemy".
Thousands of Orangemen held a "Proud to be British" rally in Edinburgh in support of the Union.
In a speech ahead of the march, Grand Chaplain Henry Williamson said: "Well, a divisive and evil enemy has arisen against Scotland in the guise of false patriotism and the nationalist referendum, against our beloved United Kingdom, and our reply as God's people this time is 'no separation'."
Police Scotland later said the march passed peacefully with no arrests.
Around 15,000 participants and 110 Orange Lodge bands took part and several thousand spectators turned out to watch the event, police said.