For many of us, running a marathon seems incomprehensible, but one man has completed a distance much further than that.
An endurance runner dubbed Ireland's answer to Forrest Gump has arrived home after an epic four-year 50,000km run around the world.
Former construction worker Tony Mangan is now threatening to recreate the famous "little run" scene from the Oscar-winning movie as he prepares to end his adventure at next month's Dublin Marathon.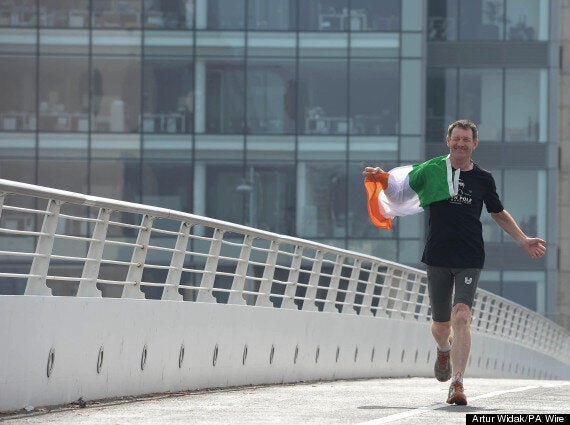 The 57-year-old Dubliner set off on his solitary east-west run across five continents, six deserts and 41 countries in October 2010 after running his home town race.
Now Mangan is back on Irish soil, he hopes the exploits will continue after he invited people to join him on stretches of a 45 day 1,600km circuit of the country.
"One or two people have actually asked me along the way does anyone mention Forrest Gump? But I always call him a coward because he never finished his run back across America," Mangan said.
"But I'm a slow runner so anybody can run with me for as many days as they want, just come out and run - I didn't want it to turn into a Forrest Gump session but it could well do."
Mangan, from the Liberties in Dublin, was greeted by about 50 friends and family at Dublin Port on Saturday on his return.
And unusually for a hardened and world weary athlete, Mangan set off for a full Irish breakfast at a nearby truck stop before hitting the tarmac again.
The record breaking runner has endured many extremes on the four-year journey from crippling athlete's foot, 50C temperatures, severe dehydration, a myriad of niggling injuries, mountain passes in the Andes and being driven off the road by lorries in India.
"But I've had an incredible amount of luck on this run, incredible. It's like there's an angel looking after me," Mangan said.
"I still do believe, even though it has been a tough slog, that running is the best way to see the world, running or walking and I really do believe I was put on the planet to run around the world."
The round the world trip was the equivalent to 1,185 marathons, almost 300 a year.
Mangan, who is planning to write a book about his exploits, is only the third person to run complete the athletic adventure but it is not his first time to circle the globe.
In August 1978 he took off on a bike, inspired by Dervla Murphy's book Full Tilt: Ireland to India on a bicycle, and finished 15 months later after a trip around the world.
Among the many athletic records Mangan has to his name are the world treadmill distance for 48 hours and the world indoor record for distance over 48 hours when he clocked 426.178km (265 miles) in Brno, Czech Republic, in March 2007 - more than 10 marathons in two days.
The global endurance test also saw him set a new record for running from Melbourne to Darwin covering more than 4,000km, accompanied by a support driver, through the inhospitable Australian interior.
Mangan suffered a number of setbacks during the four-year journey including being refused a visa for China and not being able to travel into Russia as the war with Ukraine took hold.
He was also forced to cancel his planned run through Pakistan because the security situation in the south of the country deteriorated earlier this year.
The entire four-year escapade was recorded using a special GPS type spot recording technology and Mangan blogged about his exploits on theworldjog.com, where details of the final few weeks can be seen.
Setting off from Dublin Port with a lap of Ireland and one final marathon on the agenda Mangan added: "I only have another 1600km to go, but then again, my onlys are a little bit different than other people's."
Mangan estimates the trip cost about 40,000 euro paid for through some redundancy money he received before leaving, sponsorship from ultra-marathon race organiser Richard Donovan and the generosity of strangers.

Life Lessons From Running
Related