BBC Political Editor Nick Robinson has hit out at critics who called him a "liar" over his coverage of the Scottish independence referendum, as the "balance" of the corporation's reporting drew the renewed ire of Alex Salmond.
It was described as "joyous and peaceful" by Salmond — but his number two has called it a mistake.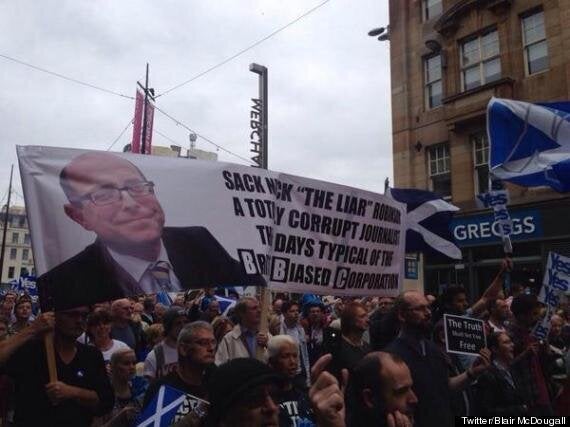 How these Yes campaigners spent the last Sunday before the referendum
Robinson responded to specific people who had tweeted him criticism, telling one: "Stop calling me a liar."
He told other critics to review the transcript of what Salmond said in response to his question and said attacks on his "integrity and professionalism" were unfair.
Salmond is due to be interviewed by Robinson later today.
The SNP leader was asked about the protest against the BBC at Edinburgh Airport this morning.
When a reporter suggested it amounted to intimidation and asked Salmond if he supported it, he replied: "I think there is a real public concern, in terms of some of the nature and balance of the coverage.
"You must allow people to express a view in a peaceful and joyous fashion. That is part of the democratic aspect of politics.
"My view of this referendum, if we leave to one side a handful of idiots on either side of the debate, which you'll always get online or offline, my view of this is it's been a joyous, empowering campaign, a lesson and a model and an exercise in true democracy."
But Deputy First Minister Nicola Sturgeon took a different view to Salmond.
She said: "I'm very clear in my view that we've now got three days to the referendum and I would say to all to all yes supporters that we should spend every moment of those three days not protesting against something but campaigning for something, for a yes vote to give us the power to transform our country."
After a day of being attacked on Twitter and seeing people demand his head on a plate, you'd forgive Robinson for wanting to turn around and head back to London.
Instead, he tweeted that he actually he wished the campaign was going on for longer.
That scenery must be really beautiful to be worthwhile despite the trolling.
Laura Bicker, a BBC reporter covering the referendum, was on the receiving end of Nationalist conspiracy theory when she did exactly what they were asking and took of the photo of the big demonstration outside BBC Scotland.
She said she took the photo late in the demonstration, when fewer people were there because she had been in a meeting.
"Lies!" cried many Nationalists on Twitter, who intervened to give what they felt was the real reason.
She tweeted an explanation of why she tweeted when she did.
She had support from some quarters, with one tweeter saying: "BBC report tweets picture of what's directly in front of her and even fgets accused of bias. Beyond parody."
Meanwhile David Cameron is expected to issue a stark warning to waverers this afternoon that there could be "no going back" if Scotland opts for independence.
Downing Street confirmed the prime minister's trip to north east Scotland was expected to be his final visit north of the border ahead of Thursday's vote.
Asked whether Mr Cameron welcomed the Queen's reported comments that she hopes Scots will "think very carefully about the future" before voting, the spokesman said: "I wouldn't have a comment to make on those."
The spokesman said the Government's position remains that it is not making any contingency plans for the possibility of a Yes vote, telling a regular Westminster media briefing: "The focus is on making the case and making the arguments.
"The poll that counts is on Thursday, and that's why the right thing to do is make the case through until then."